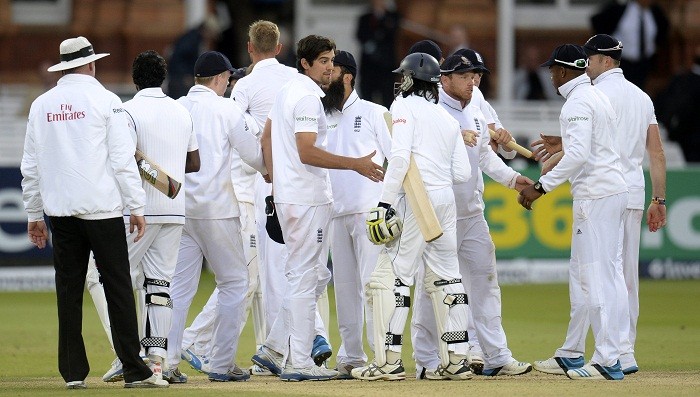 England skipper Alastair Cook defended his decision to no declare on the fourth day of the Lord's Test match, after Sri Lanka survived the final session on Day 5 to snatch a dramatic draw on Monday.
The Islanders were in a comfortable position with eight wickets in hand and 36 overs remaining. The match was heading for a comfortable draw, when James Anderson struck thrice to put the visitors under intense pressure.
Anderson sent Mahela Jayawardene, Kumar Sangakkara and Lahiru Thirimanne in quick succession to bring England back into the contest. Skipper Angelo Mathews and wicketkeeper Prasanna Jayawardene survived for 20 overs, but the moment they fell in quick succession, England sensed victory.
The hosts needed two wickets in the final over and Stuart Broad, bowling the last over, got Rangana Herath in the first ball to bring No. 11 Nuwan Pradeep, who survived the remaining deliveries as Sri Lanka clun on for a draw.
Cook faced criticism for delaying the declaration, which was eventually made in the first session of the final day, as the bowlers were not left with enough time to take ten wickets. However, the skipper insisted he made the right decision.
"We scored 40 or 50 runs in those last four overs, if we had declared only 330 ahead on that wicket it would have been a very fair chase for them," said Cook. "Sri Lanka were 99-1 at lunch and a target of 330 would have looked a very short total to get.
"The four wickets we lost after lunch on the fourth day cost us, they bowled well to get the wickets when we were trying to score quickly to have a chance of declaring last night."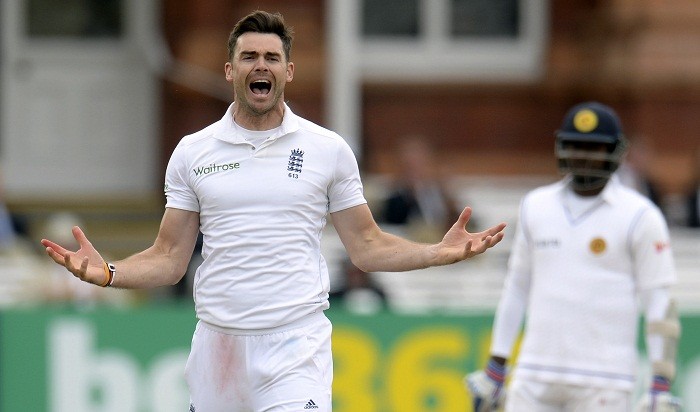 Mathews praised Pradeep for negotiating the last five balls under intense pressure. Pradeep survived when he was given out lbw by Paul Reiffel, with the batsman asking for the referral and the replays showing a big inside edge.
"All Pradeep said to me was, 'Don't worry, I'm going to hold on. If they bowl short at me I'm just going to leave it'," Mathews said. "That was very encouraging from the tail-ender. I actually thought he did that exact thing. When they went for the lbw, we were not confident, because we couldn't see from behind. But he was pretty confident that he hit it, and thank God that he did."
Mathews said his batmen crumbled under the pressure and the English bowlers also bowled quite well. He also praised the tail-enders for showing resistance.
"I thought we batted poorly after tea especially," he said. "The bowlers came and gave one last effort, and we fell for that. I thought Anderson bowled really well. Their seamers bowled hard and asked questions from our batters but we couldn't really handle it after tea. It shouldn't have got close.
"It was a great effort from our lower middle-order. Rangana Herath did well, and so did Prasanna, with a broken finger. He had had painkiller injections to keep going. It was a good effort in the end, but after tea we were too relaxed."