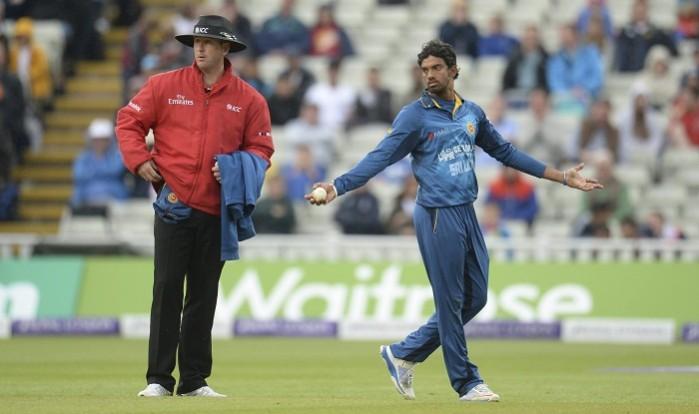 Sri Lankan skipper Angelo Mathews refused to apologise following English wicketkeeper Jos Buttler's controversial run out in the fifth one-dayer against England on Tuesday.
Sachithra Senanayake removed the bails when Buttler was trying to steal a yard at the non-striker's end in the 44th over. Senanayake appealed for the run out, termed as the 'Mankading' on the former India all-rounder, and Lankan skipper Mathews let the appeal stand, as Buttler was asked to leave the ground in controversial fashion.
Buttler was warned in the previous over as well for leaving the crease too early - under the International Cricket Council's cricketing law 42.15 - when the bowler is in his usual delivery swing.
The ICC's law 42.15 states that: "the bowler is permitted, before releasing the ball and provided he has not completed his usual delivery swing, to attempt to run out the non-striker".
The run out sparked the debate about the spirit of the game, but Mathews said the English wicketkeeper was given enough warnings on taking unfair starts, before his team appealed for the run out.
"He was taking unfair starts not only in this game but in the last game as well," Mathews told Sky Sports. "So we gave him two warnings in the spirit of cricket, because I don't know how to stop a batsman from doing that continuously. So we had to go for it.
"I would probably stick by it [the decision] because it was completely within the rules and in the spirit of cricket we gave him two warnings for not only this game but the last game as well. So we had to go for it."
England captain Alastair Cook, though, called it "a pretty poor act" and said he was disappointed with the Sri Lankan team's conduct.
"I thought it was disappointing," said Cook. "There's a line and that line was crossed here. I've never seen it before in the game and I was pretty disappointed by it. As captain of your country, there are certain ways you want your team to operate. And obviously he [Mathews] is fine with it. He has said he will do it again.
"You don't know what you would do if you were put in that situation, in the heat of the moment, until you are. I'd like to think I wouldn't do it, but I suppose you just don't know.
"I haven't been in the situation, as captain of England, where I have had to make a 'spirit of cricket' call. If he was properly trying to steal a single, I could possibly understand it. But he was half a yard out of his crease. It's pretty disappointing."
Former England captain Michael Atherton called it a "fair enough" decision and said staying inside the crease when the bowler is in his delivery stride is taught at school level.
"The way I grew up playing in the leagues you were told to stay in your ground until the bowler releases the ball," Atherton said. "You've got to keep your bat in the crease. You see a lot of batsmen wandering aimlessly out of their ground."
Former England wicketkeeper Alec Stewart agreed with Atherton's views and said Sri Lanka were entitled to appeal against Buttler, as they had warned him for the same thing earlier.
"They warned Buttler. Buttler did exactly the same thing again," Stewart said to BBC. "Senanayake is allowed to do that and Mathews is allowed to uphold the decision. We don't like to see that, but why have that law when it can't be used."
Sri Lanka won the game by six wickets after chasing down a target of 220 in 48.2 overs to clinch the five-match ODI series 3-2.