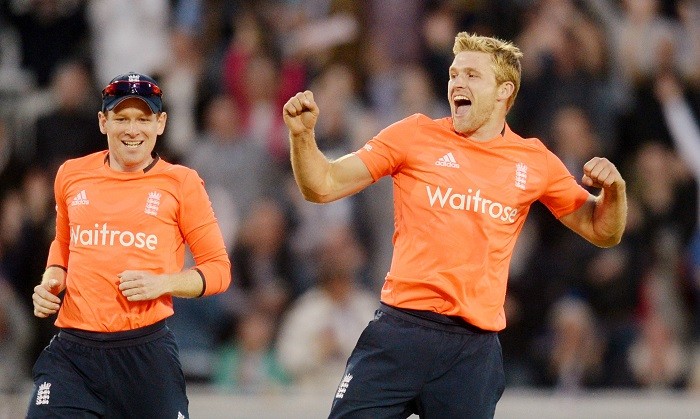 Nobody could have ever imagined that the England side, which was ousted from the first round of the ICC World Cup 2015 in Australia, would bounce back in a spectacular fashion.
The England and Wales Cricket Board (ECB) revamped the side and brought in youngsters who can turn the heat on, whenever needed.
As expected, the youngsters rose to the ocassion and played some brilliant cricket against the Black Caps. As a result, England clinched the ODI series, after being down 1-2, and followed it up with a comprehensive 56-run victory against the Kiwis in the one-off Twenty20 (T20) match at Old Trafford on Tuesday.
Skipper Eoin Morgan was delighted to end England's World Cup misery and said they can beat the best in the world with this kind of form.
"This felt a million miles away after the World Cup. When you're trying to implement change within a group it's important to have successes along the way and these guys have had that. We've done it the way we said we would and that's important too. I want these guys to play with as much freedom as possible," said Morgan in an interview to Sky Sports.
Joe Root was the top scorer for England in the one-off T20 match with 68 runs and enabled his team to put a mammoth total of 191 runs in 20 overs. Morgan praised Root as well for his match-winning innings.
"Joe has been outstanding again. Although he's still very young he's a very senior player in our squad and the guys don't have to look very far for the ultimate professional in the way he goes about his business," Morgan said.
Root has played extremely well throughout the series against the Kiwis and is hopeful that he can carry this form into the Ashes, which is scheduled to start from 8 July.
Morgan said the team's current showing will help England to do well in the Ashes 2015-2016 as well.
"It's hard to explain, everyone has gone out this summer with a freedom and it's really refreshing to see everyone commit to it and absolutely go for it," Root said in an interview to Sky Sports.