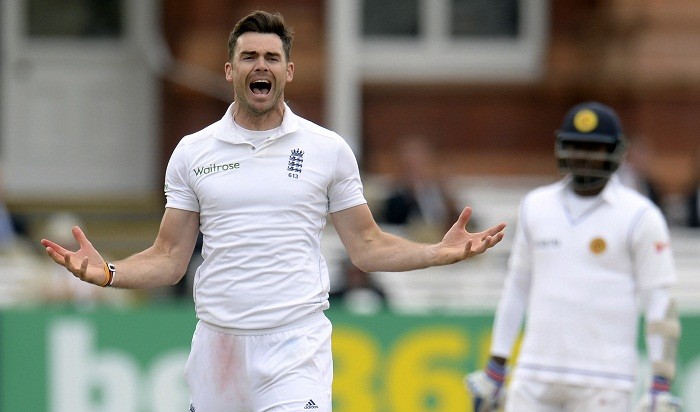 Cheteshwar Pujara has insisted that English speedster James Anderson will be a cause of concern for India in the forthcoming five-match Test series, starting July 9 in Trent Bridge, Nottingham.
Indian batsmen have performed quite well in their two warm-up fixtures against second division county sides - Leicestershire and Derbyshire. But, playing the likes of Anderson, Stuart Broad, Chris Jordan and Liam Plunkett will be a different ball game altogether for the touring party.
Anderson has a tremendous record against India in the longest version of the game. He has taken 57 wickets in 14 matches, including two five-wicket hauls and his best performance is 5 for 42 at the Lord's Test.
"He is dangerous," Pujara told to ESPN Cricinfo. "It is all about experience and he has that. He knows where to bowl, what length to pitch on, and which end to pick. He is a clever bowler. He might be the bowler for us to watch out for."
Team Indian was hammered by the Andrew Strauss-led England 4-0 on their last tour and the stylish right-hander admitted that 2011 memories are still afresh in their minds. However, the 26-year-old insisted that after doing reasonably well on the South Africa and New Zealand tours, Indian team is a lot more positive heading into the first Test.
"It will be a challenging tour," Pujara insisted. "No doubt about that because we did not play well on the previous tour in 2011. That will be at the back of our minds. But there are more positives now. Our batsmen have played the likes of Dale Steyn and Morne Morkel in South Africa, where we did reasonably well."
"A couple of sessions did not go our way, otherwise we could have won that series," he added. "But overall we had a good tour of South Africa. Then, earlier this year in New Zealand, I did not make runs, but I did get starts. I did feel I was in good touch and I was happy despite not getting big runs. Those two tours will help me and other Indian batsmen perform better in England.
The venue of the first Test, Trent Bridge, is expected to help the pacers and will be a litmus test for the Mahendra Singh Dhoni-led side. Curator Steve Birks has not left any live grass on the pitch but the English seamers are likely to get enough purchase off the deck to trouble the inexperienced Indian batting line-up.
Only skipper Dhoni, Gautam Gambhir and pacer Ishant Sharma have experience of playing Test cricket in the English conditions. However, Pujara stressed that many of the players have previously toured England, during their Champions Trophy triumph, and are capable of playing well.
"In England we expect the pitches to behave better compared to what we faced in South Africa and New Zealand," he said. "Also, most of the Indian players have already been to England in the past so they are aware of the conditions, in contrast to South Africa and New Zealand, where we did not have previous playing experience."