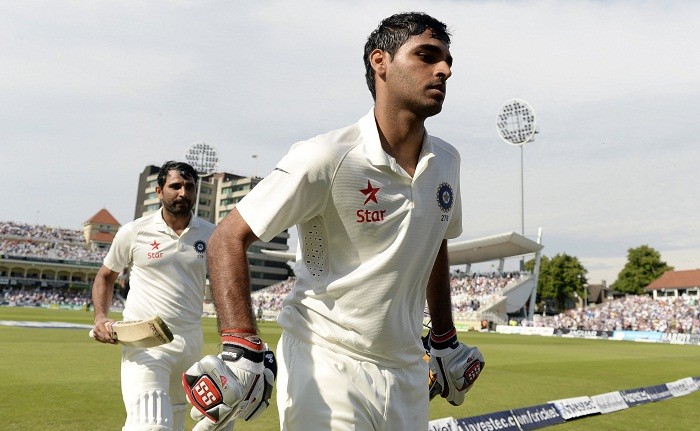 All-rounder Stuart Binny and lower-order batsmen helped India play out the final day of the first Test match against England, as the visitors salvaged a draw at Trent Bridge on Sunday.
India started the day at an overnight score of 167 for three, and suffered a serious scare when they lost three wickets in quick successions. Stuart Broad dismissed Virat Kohli (8) and Ajinkya Rahane (24), while Liam Plunkett castled skipper Mahendra Singh Dhoni (11).
Ravindra Jadeja (31) and Binny (78) helped the touring party recover from the setbacks and stitched a 65-run partnership for the seventh wicket. Jadeja, however, failed to complete a half-century, when James Anderson scalped him on an out-swinger.
"That was a very important partnership looking at the game because we were not really safe at that time," Dhoni said. "We had at least half a day's play or more at that stage. Had it not been for that partnership we could have struggled to defend the amount of runs we had scored at that stage. That partnership was much needed."
"The other good thing about that partnership is that not many of our players have the experience of batting under pressure and save a Test match if the need arises," he added. "Games like this really gives them the exposure and teaches them what really needed to be done. I feel it is nice that some individuals stood up when the pressure was put on us."
Binny, meanwhile, anchored the Indian innings and made a 91-run partnership with Bhuvneshwar Kumar (64 not out) for the eighth wicket. The 29-year-old completed his maiden fifty and was looking set to get his name on Trent Bridge honours board on debut, when he was given out lbw of Moeen Ali.
The Indian tailenders put a firm resistance and the Indian skipper showed no intent of declaring the innings and putting England to bat for the second time. Bhuvneshwar, meanwhile, completed his second fifty of the match and remained unbeaten with Mohammad Shami (4 not out).
The match was looking set for a draw since the first day and the Indian captain was not happy with how the wicket behaved. Dhoni said this is not the kind of pitch he was expecting, as the seamers rarely found any movement off the deck.
"I always said that when you come to a country you want to play on wicket that's the specialty of that country," Dhoni said. "You know, there's no fun in going to India and expecting flat wickets where people can score 200 or 250 runs. But it's very good if you score a hundred on a turning track. When you come out of India, you would like the wicket to be slightly quicker."
England skipper Alastair Cook praised Joe Root and Anderson for making a world record 198-run stand for the tenth wicket and helping the team from recovering after a bad session on Day 4.
"We dragged ourselves out of a hole," Cook said. "In this game we had a poor session when we lost six wickets. It was an outstanding hundred from Root and with Jimmy to have got 80-something. I didn't see it coming, but thank goodness he got it."