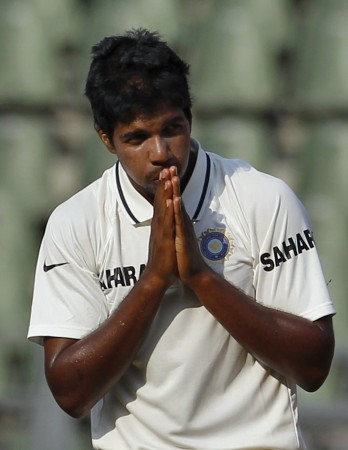 County cricket it seems is attracting India's cricketers. Days after batsman Cheteshwar Pujara opted to play for Derbyshire, his India teammate and pacer Varun Aaron has expressed his willingness to participate in the English domestic game.
Aaron impressed many with the pace he generated against England during the Test series. Former cricketers were of the opinion that he added a new dimension to the Indian pace attack in England which perhaps lacked someone who could hurry the batsmen.
Aaron made it clear that turning out for a county side was one of the things he aspired toward.
"Playing county cricket is one of those things that is high on my priority list," Sky Sports quoted the pacer as saying.
Aaron's reasons for wanting to gain some experience in county cricket is that the pitches in England offer bowlers and batsmen a fair chance, and the cricket played in the county championship was at a pretty high level.
"The cricket in England is very competitive because the conditions don't favour either the batsmen or bowlers too much," the pacer pointed out.
Aaron, however, contended that, given that he was playing consistently, it would be hard for him to make time to appear for a county side.
"It's just that we've got such a busy schedule, so it's difficult for me to slot in a stint with a county," he said.
If the Indian Premier League were to be held at an earlier time the next year he would for sure hope to turn out for a county team, according to Aaron.
The Indian players not being able to adjust to the conditions was one of the reasons why they failed in England. Former England skipper Michael Vaughan reckoned that county cricket would do Indian players a world of good.
"My main recommendation is to get their players to play county cricket," Indian Express quoted the former England captain as saying.
It was imperative the Indians got used to playing in English conditions, Vaughan was of the opinion.
"They need to learn how to bat and bowl in our conditions," the former captain added. "All the greats of the past 30 years had spells in county cricket. It would do their development a great deal of good to come here."