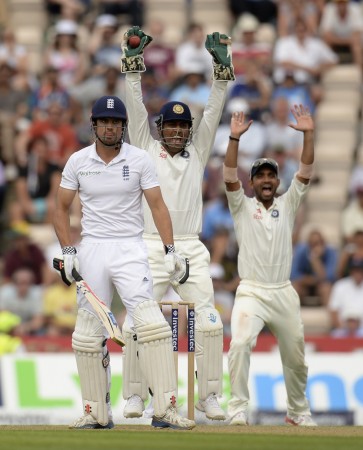 The International Cricket Council (ICC) has pulled up Mahendra Singh Dhoni and Alastair Cook in an official statement for the comments they made about the alleged James Anderson- Ravindra Jadeja altercation.
The governing body of cricket has also backed match referee David Boon's decision to fine Ravindra Jadeja 50 percent of his match fee for his involvement in the alleged bust-up between him and English pacer Anderson.
The ICC reckoned that both the Indian skipper and his English counterpart, by commenting on the controversy, did not accord the proper respect to the governing body's methods of disciplining players.
"England captain Alastair Cook and, more recently, India captain Mahendra Singh Dhoni have made public comments relating to the alleged incident that took place during the first Test at Trent Bridge, the latter of which is critical of and undermines the ICC disciplinary process," ICC chief executive Dave Richardson said in the official statement.
ICC put its weight behind Boon, match referee of the current England vs India Test series. Ravindra Jadeja saw a 50 percent reduction in his match fee after Boon thought he had committed a Level 1 offence and contravened ICC's Code of Conduct by not upholding the spirit of the game.
"The ICC would also like to reiterate its full support of the process followed and respect for the decision made by David Boon," Richardson, a former South African wicket-keeper, remarked.
Judgements can be hard to deliver in such cases due to the many legalities involved and to gather proof the versions of more than one witness is required, according to the ICC.
"ICC Code of Conduct Hearings of this nature are, generally speaking, difficult processes to work through, with detailed legal submissions, witness statements and oral witness testimony, the former South African wicket-keeper pointed out.
Boon had dealt with the matter very well, the ICC insisted, especially as players from both sides had different accounts of what had transpired .
"We are satisfied that Mr Boon carefully and comprehensively considered the evidence and submissions presented to him at the hearing, which included conflicting evidence from both sides, prior to making his decision," added Richardson.
Prior to the third Test, the fact that Jadeja had incurred a 50 percent punishment had left Dhoni far from impressed. The Indian skipper, who had been a witness to the alleged fight between Anderson and Jadeja, reckoned there were issues that had been overlooked.
"To me, it is a very hurtful decision. A lot of things were neglected in judging the case," Dhoni said.
England skipper Cook, before the Lord's test, wasn't too impressed that the Indians had lodged a complaint to the match referee about Anderson. Cook claimed India had attempted to have England's best bowler banned.
"It's probably a tactic by India, if we are being honest. It's a bit of a mountain out of a molehill," the English skipper had said.