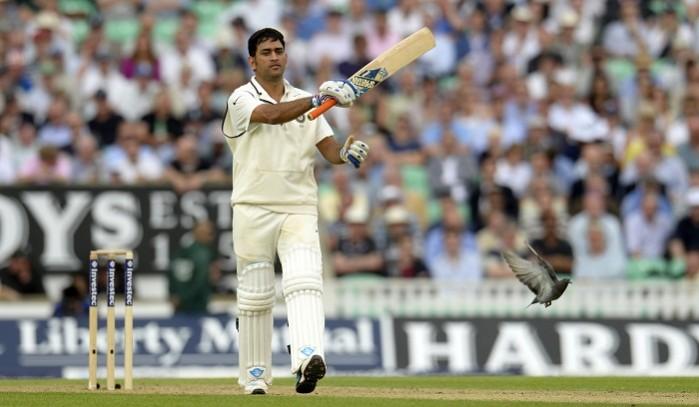 After the way India capitulated in the final three Test matches against England, one man and his role in the team was always going to be the talking point. After all, in cricket, everything starts and begins with the captain, and if the captain cannot inspire a bunch of young players to, at the very least, show some fight, then where do you go from there?
MS Dhoni has arguably been India's best ever captain – maybe not in the Test format – but if you take it in the overall context, no captain has achieved as much success as the ice cool man from Jharkhand, and because of that he deserves a long rope. But, just how long a rope, is a question that needs to be asked, after this latest debacle in England.
To lose a Test series is fine, but to lose one after winning the second Test, and then suffering two straight innings defeats, is, plain and simple, unacceptable.
However, with Dhoni, such is his unflappable nature, especially in front of the media and public, you just don't know what is going on in that head -- Is he seething or is he just sad at the performance? Is there some kind of fire that is still burning inside him, that he wants to turn this massive disappointment around and stick around long enough as captain for some redemption? It really is anybody's guess.
"It is a reflection of the batting order that has not done well," Dhoni said of India's meek (and that is an extremely kind word to use) surrender against England, which saw them bowled out for 94 runs in 29.2 overs.
"[Murali] Vijay has done well but right from the first Test we have not been able to get a good opening partnership. [Cheteshwar] Pujara was early to the middle because of that -- in the third or fourth over itself. It kept exposing our No. 3 batsman, and Virat [Kohli] went through a lean patch.
"If you're playing with six batsmen including the wicketkeeper, it makes it a bit tough if you lose that many wickets upfront. When the lower order scored runs we made 300-plus totals and once they too got out cheaply then we struggled to put runs on the board.
"Yes, we are disappointed that we couldn't offer any fight in the last three Test matches. Hopefully, they will take positive out of this defeat and when they come back here -- all of them are young and good enough to come back here -- and do better."
So does that mean Dhoni's reign as Test captain, after two painful series thrashings in England, is coming to an end? "You'll have to wait and watch," Dhoni said. "You asked me the same question in 2011 [when India were whitewashed].
"You will have to wait and watch if I am strong enough or if I am not strong enough. You will get the news."
But would a different captain really have made any difference to this India side. Yes, Dhoni was not at his best wearing the skipper's hat, and yes, there were quite a few odd decisions made. But no captain can do anything when the batsmen have made batting look more difficult than exploring the North Pole barefoot.
And it is not even as if Dhoni had the bowlers, who were better than the batsmen, no doubt – hey, even some of the bowlers were better batsmen than the actual batsmen -- who could turn the match around like England's pacemen and Moeen Ali did so often.
"The team has changed completely," Dhoni added. "Whatever strategies I have learned in the past, I tried to implement in this series. As a skipper, when you try to manipulate the field you need to see the strengths of the fast bowlers.
"Our bowlers are different to English bowlers, who keep hitting the same areas. They might be a bit boring but once they get that chance they start attacking you. You may have spent 30 or 40 minutes [batting in the middle], but when you look at the board there wouldn't be many runs.
"That's where we have faulted to some extent. We have not got that kind of bowlers who can bowl the channel, and that's because they may not get a long spell in subcontinent. They won't bowl too long with new ball and sometimes later with old ball when reversing.
"They don't bowl 22-23 overs, and the whole psyche is to go for wickets. I feel that mindset needs to be conditioned."
The BCCI need to put some serious thought into Test cricket and give their batsmen the best conditioning possible to succeed away from home – whether that is by letting them go and play county cricket or something a little more drastic – something needs to be done.
"That's an interesting one because there are only a few players who can play that," Dhoni said when asked about his batsmen playing domestic cricket in England like a lot of the former legends have done. "The others will be busy with other cricket.
"If you see the calendar we play from January till December. Maybe our climate is such that it supports us playing cricket throughout the year, but definitely there will be a few players who will be playing Test cricket and if they have some time and if they get a good contract they can definitely come and play, especially batsmen.
"Unless you come and play over here it's very difficult to keep practising on the outside and think this will help. It's important to spend some time over here, and it will definitely help, and it has helped other players in the past, whether they are former West Indies, Australia or Indian cricketers. So definitely something we can look into but it will be difficult to fit it in."
And what about taking a break from the IPL and actually honing your skills for Tests – the supreme format in cricket? "Don't be jealous of the IPL," said the skipper, which pretty much sums it all up doesn't it.