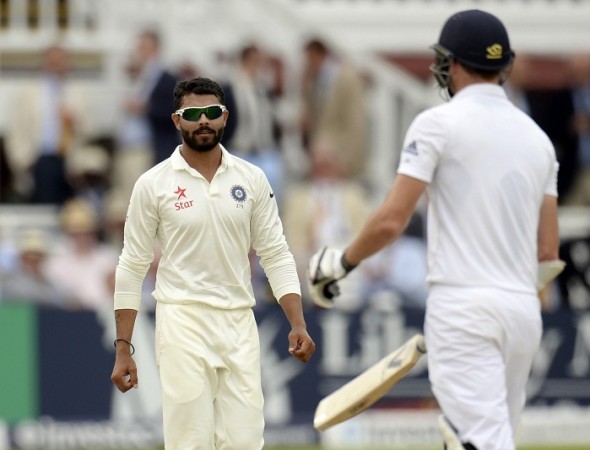 The spat between James Anderson and Ravindra Jadeja has already cranked up the atmosphere in the ongoing Test series between India and England, and with the fourth match slated to take place in Anderson's home ground in Manchester the Indian will be at the firing line once again.
The detailed reports of the judicial commissioner revealed that the English speedster not only abused Jadeja in the Trent Bridge Test, but also called Indian skipper Mahendra Singh Dhoni a "f****** fat c***".
Former England cricketer David Lloyd has told both Jadeja and Dhoni to remain ready for facing heaps of stick in the Old Trafford Test and cited the example of how Australian fans treated Stuart Broad in the Ashes series down under.
"They may be mega superstars in their own country but they aren't here and I wonder if they are getting a bit above their station," Lloyd said. "Remember Darren Lehmann urging the Australia fans to give Stuart Broad plenty of stick?"
"Well I can guarantee that Jadeja will get heaps at Old Trafford," he added. "We don't do 'up-themselves' superstars in that part of the world."
Anderson allegedly pushed the Indian all-rounder and also threatened to break his teeth. Dhoni, meanwhile, has reportedly warned Anderson not to be seen near the Indian dressing room otherwise he would "squeeze the life out of him."
The English pacer, however, was not charged by Judge Gordon Lewis because of lack of video evidences and biased statements from both parties. However, the Indian team showed displeasure over the judgment and the Indian board is thinking of challenging the verdict.
However, only International Cricket Council's (ICC) Chief Executive Officer Dave Richardson can challenge Lewis' judgement and the Board of Control for Cricket in India (BCCI) secretary revealed that he has written letter to the CEO insisting that BCCI is not happy with the order.
"As per the code, the BCCI cannot appeal against the order. But the ICC has got the right to appeal against the said order," Patel told ESPNcricinfo. "Yesterday night, I had written a letter to David Richardson, CEO of ICC, saying that we are not happy with the order. The code has not been properly followed."
"There are too many lacunas and points under which the order can be appealed," he added. "All these points have been explained in detail in that letter. And I have also requested him that he should appeal against the order. Let us wait and see what they do now."