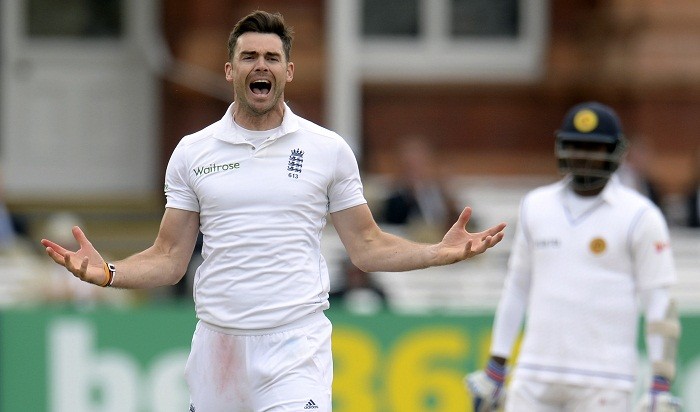 England pacer James Anderson could still face sanctions for his altercation with Indian all-rounder Ravindra Jadeja, despite being cleared off Level 3 charges.
Anderson, who allegedly abused and pushed Jadeja in the first Test, was cleared of all charges by judicial commissioner Gordon Lewis, although the English seamer admitted to abusing Jadeja in Trent Bridge.
International Cricket Council (ICC) CEO Dave Richardson is the only person who can make an appeal against the verdict given by Lewis. And according to reports, ICC chairman N Srinivasan and the Board of Control for Cricket in India (BCCI) officials are mounting pressure on Richardson to appeal.
Anderson, who was over aggressive on the field, constantly sledged Jadeja even after the intervention of on-field umpire Bruce Oxenford. The speedster admitted calling Jadeja "f***ing p**ck" and "f***ing c**t" during the altercation.
However, no charges were handed to Anderson, who also allegedly threatened Jadeja of breaking his teeth and pushing him on the corridor leading to the dressing rooms, because of lack of video evidences.
CCTV cameras on the corridors were switched off when the alleged pushing happened so the judicial commissioner dropped charges on both players as both India and England had their own versions of the story.
"Obviously one version of the facts must be untrue but the existing CCTV image is unhelpful and the witnesses hopelessly biased in favour of one party or the other," Lewis said.
"In short I do not know on the evidence, and to the relevant standard of proof, what happened in the corridor leading to the stairway in those few seconds after the batsmen and fielding side came in for lunch. I cannot be comfortably satisfied as to the truth of either version of the evidence," he added.
Earlier, BCCI secretary Sanjay Patel had stated that the legal team of the board will analyse the judicial commissioner's report, before making any further plea on the incident.
"We are expected to receive a detailed copy of the order that was passed by the Judicial Commissioner either by today or tomorrow," Patel said. "We will only be able to take a call in this regard after receiving the order copy. A detailed legal analysis is required before deciding on future course."
"Our legal team will study the report and will give us feedback. In such cases, every point needs to be studied minutely and it will take some time," he added. "So it is premature to conclude whether we will appeal."