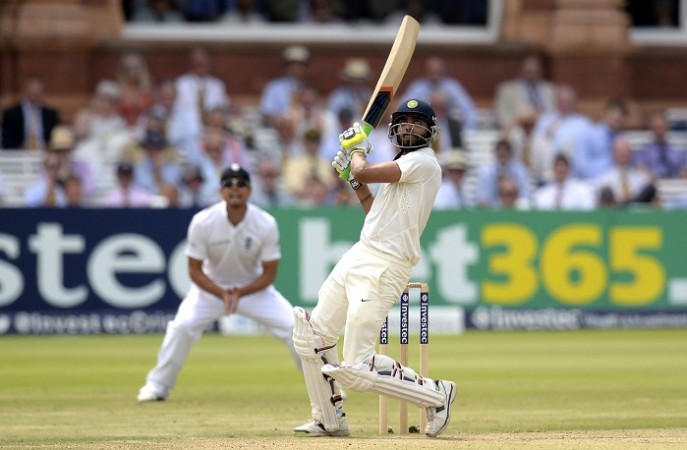 Ravindra Jadeja, such a frustrating cricketer, but also one that can bring his ability to actual "Sir Ravindra levels" to help India to the path of success. Staring down another batting nightmare mire, Jadeja, so disappointing with the bat in Test match cricket, cracked a wonderful attacking half-century to send the morale of England into the despair levels.
India were in serious trouble at 235 for seven, with England looking like they will only have to chase down a score of just above 200 to win the second Test at Lord's. But then in stepped Jadeja, with that swinging blade of his to pull, hook, drive and loft India to a position of serious strength, which was then only enhanced by some good bowling -- Jadeja also coming to the fore there -- as the visitors pulled close to a momentous victory.
Jadeja's counter-attacking 57-ball 68 (9x4) -- his highest Test score -- and, almost expected now, another fifty from Bhuvneshwar Kumar (52, 71b, 8x4) – the duo putting on a tremendously important partnership of 99 from 99 balls – helped India to a second innings score of 342 all out, to set England a target of 319 for victory.
England have an awful recent record when it comes to chasing down scores of over 250 in the fourth and final innings, and they did themselves no favours in getting to what would be a stunning win by ending Day 4 at Lord's on 105 for four, 214 runs still remaining in their target, with Joe Root and Moeen Ali, just about managing to stay at the crease after a two-wicket burst from Ishant Sharma, where he dismissed England's two most experienced batsmen – Ian Bell and Alastair Cook – put the hosts in some serious trouble.
Earlier, the overnight batting duo of Murali Vijay and MS Dhoni looked to knuckle down, weather the early storm and set that platform towards the winning total, only for it to go pear-shaped in the second half of the first session.
For nearly an hour Vijay and Dhoni (19, 86b, 2x4) battled at the crease, with the former looking much more comfortable and playing some delightful boundaries, but once that outside edge of Dhoni's decided it was time to come into play again, India's momentum burst quicker than a balloon that has just flown into a sharp object.
Dhoni's wicket, off Plunkett (22-6-65-3), was followed by Stuart Binny's dismissal, with the all-rounder, without even opening his account, going for a lofted shot over the infield only to mistime it and allow Cook to complete a smart running catch – Ali (11-3-28-2), once again, showing his value with the ball.
Vijay (95, 247b, 11x4), the primary reason behind India not collapsing sooner than a house of cards on Day 3, deserved to get a hundred and looked like he was on his way to his second three-figure score of the series, only for James Anderson to get that new ball talking and find that outside edge.
At 235 for seven, India were in deep trouble, but then came Jadeja, with a point or two to prove, smashing the England bowlers all around the park, making the short pitch stuff look like batting against a tennis ball at home, and rubbing a little more salt into the wounds of Anderson, who was desperate to pick up the left-hander.
Bhuvneshwar, at the other end, yet again looked a lot more comfortable at the crease than most of the top order batsmen, acting as the perfect foil to Jadeja. The 99-run partnership helped India to a score well above 300, and once Jadeja was removed by Stokes (18.1-2-51-3), the job had already been done.
In reply, England were not able to get that perfect start, so essential when you are chasing a big total in the second innings, with Sam Robson (7, 27b, 1x4) trapped in front by Jadeja, who else, off his first ball as Dhoni's decision to give the left-arm spinner the ball in just the seventh over of the innings worked wonders.
England went into Tea at 18 for one, but the final session, under fading light with the clouds proving to be an ominous sign for the home side, would be all India as Gary Ballance (27, 59b, 2x4), after a fighting 58-run partnership with Cook, was picked up by a peach from Mohammed Shami.
Cook (22, 93b, 2x4) and Bell (1, 4b) needed to see through the rest of the session and day if England were to stand a good chance of winning the match, but in came Ishant (10-5-13-2), wicketless in the first innings, to first send Bell's stumps cartwheeling before Cook was induced into the poke outside off stump, only for Dhoni to complete a simple catch off the edge.
At 72 for four, England were in dire straits, with Jadeja spinning the ball and making the cherry bounce off the rough, but Ali and Root stayed calm, and, courtesy a couple of decisions that could have easily gone India's way and a few chances which just seemed to evade the fielders by inches, survived.