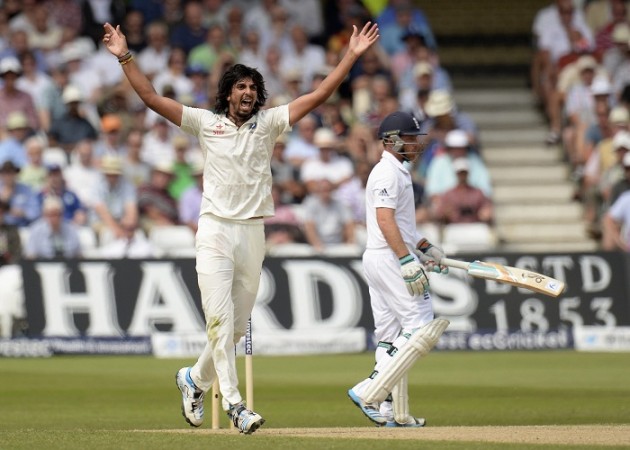 Skipper Mahendra Singh Dhoni praised speedster Ishant Sharma, who steered India to a historic 95-run win over England in the second Test at Lord's Cricket Ground on Monday.
Ishant produced the best performance of his career in the second innings and finished with a seven-for to help Team India register their first victory at the home of cricket since 1986 and go 1-0 up in the five-match Test series.
The lanky pacer tempted the English batsmen to go after him by bowling short pitch deliveries and fashioned a breathtaking spell to claim five wickets in eight overs. He earlier dismissed Alastair Cook and Ian Bell on the fourth day.
"It was fantastic to see the effort and determination the guys showed. A very memorable game of cricket for us," Dhoni said. "I feel every game is important, but yes, it feels good to win test matches outside India, and being Lord's it is very special, but at the same time, every test match is special for us."
Earlier on Day 4, fine fifties from Ravindra Jadeja and Bhuvneshwar Kumar, after losing three wickets in a space of 30 runs, helped India to post a challenging 319 runs target. Jadeja also claimed three wickets in the match and ran out James Anderson to finish the England innings.
"Jadeja is very talented. At times he feels pressure," Dhoni said. "What's important is that he gets a few innings like this. Going forward he will start feeling more confident. And maybe you will see a change in his approach.
"Still I think the number where he bats he has to score quickly, look for runs. Irrespective of how he plays, quite a few batsmen lower down the order score many more runs playing aggressive cricket rather than just surviving in the middle.
"He should just look to go in and hit the fast bowlers. What we have seen is, once he attacks he gets into much better positions to play his strokes."
Meanwhile, questions are being asked about skipper Cook's captaincy and form as England slumped to yet another defeat at home, after losing the series against Sri Lanka in June. Cook admitted that the remaining Test matches against India could be his only chance of reviving the fortunes of his struggling outfit.
"If I'm not scoring runs by the end of the series and losing more games, it becomes tougher and tougher doesn't it," Cook said. "I'm clearly maybe not the man to turn it around. I've been speaking to Mooresy [coach Peter Moores] over the past couple of days, even in tough times, and me and him still think we can turn it around."