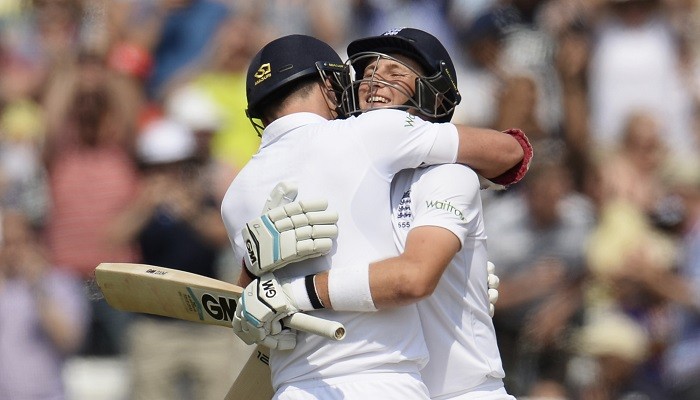 If the 111-run partnership between Bhuvneshwar Kumar and Mohammed Shami was irritating, frustrating, annoying, exasperating and a few more synonyms for the bowlers, Joe Root and James Anderson lifted those frustration levels for the bowlers, on this as-dead-as-they-come wicket, up a notch by putting on a world record tenth wicket partnership in stunning style.
The result of the brilliant 198-run alliance on Day 4 of the first Test at Trent Bridge was England ending up with a first innings lead of 39 runs after finishing on 496, when at one point they looked like they might not even get to the runs needed to avoid the follow-on.
After the incredible turnaround, all of the pressure was on the India batsmen to perform, and, for the most part, they did, with Murali Vijay and Cheteshwar Pujara playing good hands before unnecessarily throwing it away, forcing Virat Kohli and Ajinkya Rahane to ensure there would not be any more heartburn in the final few overs as India finished Day 4 on 167 for three, a lead of 128 runs.
If India had begun the day hoping to wrap up the England innings within a few overs, they were in for a shock, and then some, with Root (154 n.o, 295b, 15x4) and Anderson (81, 130b, 17x4) putting on one of the best partnerships you are ever likely to see, let alone a stand for the tenth wicket.
It was a nightmare session for India, as England batted like they were on 350 for no loss, without a worry in the world, with the first innings total of the visitors slowly but surely becoming nowhere near enough to garner a lead.
With just one wicket for India to take to finish England off, the session was extended by half an hour and like in the India innings, all that did was help the batsmen – this time Anderson and Root -- plunder a few more runs with the morning session yielding England 133 runs in 34 overs without the loss of a single wicket, which helped them move from an overnight score of 352 for nine to 485 for nine.
In the process they breezed past several records including the best tenth wicket stand against India and the more important world record alliance for the final wicket, overhauling the one managed by Phil Hughes and Ashton Agar of 163 against England at Trent Bridge last year.
India would not have wanted to go out there and bowl, hoping England would just declare to end their misery, but go out and bowl they had to with Root, who had of course, eased to a century in the first session and was looking at the possibility of a double century, and Anderson looking to notch up a few more boundaries.
However, India finally broke through in the fifth over of the second session, with Anderson falling 19 runs short of what would have been a brilliant hundred – caught in the slips by Dhawan off Bhuvneshwar Kumar, who in the process completed his five-for, finishing with figures of 30.5-8-82-5.
The world record alliance had lasted a massive 53.2 overs, while costing India 198 runs, with England going from a not-so-great 298 for nine to 496 all out.
The Indian bowlers' back had been broken with that stand and the batsmen needed to give their teammates as much of a break as possible, with the primary job lying at the hands of the openers –Vijay, fresh from a first innings century, and Shikhar Dhawan, desperate to perform.
India started well enough, picking up 45 serene runs in the first 11 overs and with it wiping off the deficit, but just when the opening duo looked set to take their side to Tea without a single wicket lost, Moeen Ali, of all people struck. It was a nothing delivery, a low full toss, with Dhawan (29, 29b, 6x4) jumping down the track and instead of smashing the ball to the boundary, inexplicably deciding to gift the bowler a return catch.
Pujara and Vijay saw off the over and a few remaining to Tea, before solidly building a partnership to ensure there would be no dramatic final session heroics from the England bowlers. Pujara and Vijay, calmly enough, stitched together 91 in a little under 30 overs to take India to 140 for one and a reasonably healthy lead of 101.
However, India never do it easy do they. A sudden loss of concentration from Vijay (52, 119b, 7x4, 1x6) saw him become the second victim of Ali (7-0-39-2), before, in the very next delivery, Liam Plunkett was celebrating after seeing Pujara (55, 101b, 7x4) throw his bat at a wide delivery only to find Ben Stokes at backward point who completed a simple catch at the second attempt.
Rahane and Kohli needed to see off the remaining 5.5 overs to ensure India would not be in a vulnerable position come Day 5 on Sunday, and they did just that comfortably enough, with a draw looking like the most likely result.