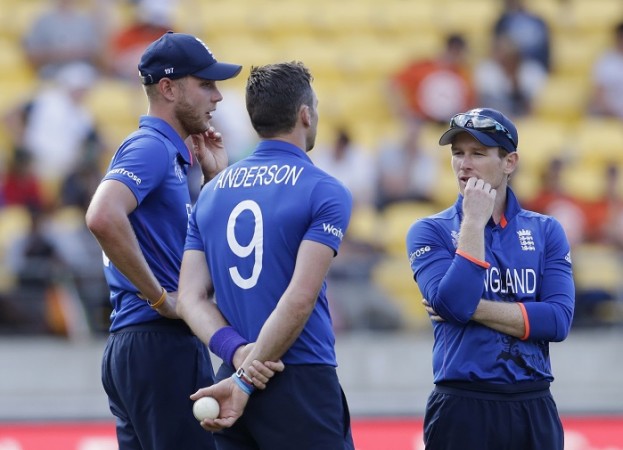 England vs Bangladesh – the game which will most probably decide the team that finishes fourth in Pool A of the ICC Cricket World Cup 2015 will be the match to watch come Monday in Adelaide.
The two teams are battling it out for the final spot in the quarterfinals from Pool B, and even if both sides have a game each left to play after this, the winner of this contest will most likely extend their stay at the CWC.
England have been woeful in this World Cup so far, managing just a win from four matches, and they find themselves right behind the eight ball, with three points separating them and Bangladesh.
"They're a side we certainly don't take for granted," said England captain Eoin Morgan. "They've come a long way probably in the last 10 years and again we've played against them a lot.
"But I think a lot of our focus going forward is going to be on us. It's easy in games likes these where you play a side who you play a lot, and have had a lot of wins against them, it's easy to take them for granted or look too much into what they do.
"If we play well I've every confidence that we'll win this game."
The manner in which England fell to Sri Lanka in their last game would have worried them. Chasing over 300, Sri Lanka made the target feel like it was just a 100 runs, such was the ease with which they reached it. England's bowling was thought to be their strong point going into this World Cup, and if their bowlers don't step up, then their already iffy looking batting gets put under even more pressure.
"As I said after the game [the loss to Sri Lanka], our bowling was a bit of a concern because our first 35 overs normally are our strength," added Morgan. "We look to take wickets up early with aggressive bowling and then build pressure in the middle period by banging out a length.
"We bowled some bad balls and we were I suppose less attacking than we normally would have been with the ball, which again gave Sri Lanka a release anytime there was pressure was built."
For Bangladesh, whose final match is against the unbeaten New Zealand, this will be equally make or break, because the way the Black Caps are playing they look pretty difficult to beat.
"It will be a flat wicket," said Mashrafe Mortaza of the pitch at the Adelaide Oval. "There will be plenty of runs here. I feel we can make runs here. We have chased 319 against Scotland so if we have to do it against England, it might be a little harder. Still I feel 270-280 will be a good score. All our batsmen are confident.
"The equation for us was to beat Afghanistan and Scotland and one of the big teams, and now it remains as it was before the tournament started. It will depend on how we play.
"The real challenge ahead of us is to get out of the group stage. We are all quite confident. A bit of pressure is normal, because about 160 million people back home are waiting on us to give them joy."
Where to Watch Live
Get the Match Report HERE
The crucial Pool A match is scheduled for a 2.30 pm local time (9 am IST, 3.30 am GMT, 10.30 pm ET) start with live coverage in India on Star Sports 1 and Star Sports 3. Viewers in India and the rest of the subcontinent (including Bangladesh) can also live stream the match online on Starsports online and Star Sports Live Pro.
Viewers in the UK can watch the game live on Sky Sports World Cup and Sky Go, while US viewers can watch it live on ESPN and ESPN Cricket.
Viewers in Australia will be able to watch the match live on Channel 9 and Fox Sports while New Zealeand audience can do so on Sky TV. The match can be caught via live stream online in Australia on Cricket Australia Live and Foxtel, while New Zealand viewers can do the same on Sky Go NZ. Audience in the Middle East can watch the match live on OSN Sports, while the action can also be live streamed on OSN Play.