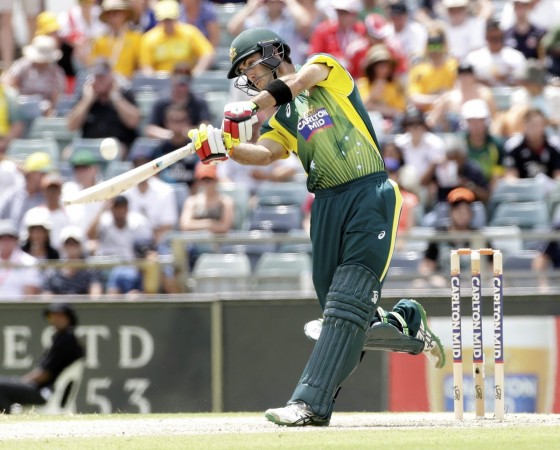 Australia could not have finished off their last competitive ODI game better, prior to the world cup, as they defeated England in the Tri-series, which featured India as the third side.
Australia won the game comfortably by 112 runs, eventually. But, it was not an easy win considering the way Australians started their innings with the bat.
After winning the toss at WACA, England put the Australians into bat and started the game very well dismissing Aaron Finch in the third ball of the innings. The England bowlers looked dangerous as the Australians were left tottering at 60 for 4.
But as usual, some player or the other chipped in for Australia, which makes them a formidable side.
This time around, it was Mitchell Marsh and Glenn Maxwell, who played sensibly as they were required to stable the innings and consolidate later.
The 140 odd runs partnership between the two put the Aussies on a strong position. Glenn Maxwell looked at his menacing best as the partnership grew strong, who scored 95 runs from 98 balls with 15 hits to the fence.
But one would also have to pat Marsh's back as he too scored an important half century as he was dismissed for 60 runs.
And with some huge hitting at the end by James Faulkner, which included 4 fours and 4 sixes in his innings of 50 runs, their score read 278 runs for 8 wickets after the conclusion of the first innings.
England were aware about the importance of a good opening stand, but the Australians took an early break through, as Ian Bell edged Hazlewood's delivery to Haddin, which eventually led to the team's downfall as well.
Their team score soon read 46 runs for four wickets. There was not much difference in the Australian and the England score, but unlike Australia, England could not put up a decent partnership.
In fact, their wickets began to fall like a pack of cards, as they were already seven wickets down without scoring 100 on the board.
The English batsmen only had pride to play for, as the Australians inched closer to the trophy.
The English tail-enders wagged their bats with Chris Broad playing a cameo comprising of two fours and two sixes in his innings of 24 runs.
But, it was Maxwell, who stole the show with four wickets in the England innings as well.
One look at the series, and the way Australians have dominated England and India, it was only the Aussies, who were destined to win.
This series victory puts Australia as one of the obvious favourites to lift aloft the 2015 World Cup in Australia and New Zealand.