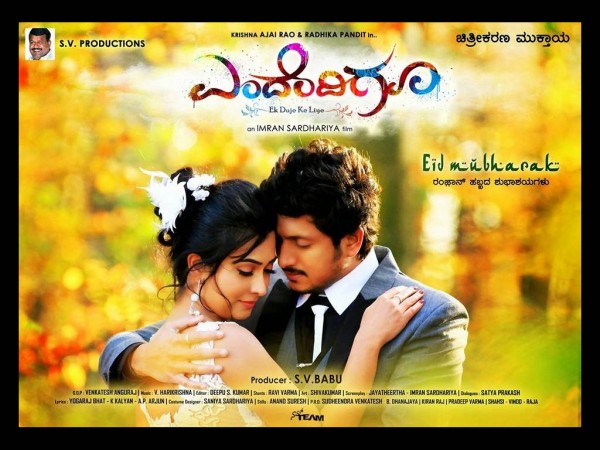 Kannada movie "Endendigu" starring "Krishnan Love Story" pair Ajai Rao and Radhika Pandit in the leads, has received mixed reviews from viewers across the globe.
Written and directed by Imran Sardhariya, "Endendigu" is a romantic comedy entertainer. The director has presented the story of Satyavan and Savitri in a modern way. The film is about love and commitment between a couple, with an emphasis that men and women are incomplete without each other.
After their marriage, Krish (Ajai Rao) and Jyothi (Radhika Pandit) leave for Sweden, where Jyothi gets weird visions about future. What happens next forms the crux of the film. The audience, who have watched "Endendigu", say the first half is entertaining with some comedy scenes, but the narration is slow and boring in the second half.
The chemistry between Ajai Rao and Radhika Pandit is the main highlight of "Endendigu". V Harikrishna's music and Venkatesh Anguraj's cinematography are two other noteworthy aspects of the film, say the audience.
Below, we bring you Twitter comments of viewers who have watched the film, in our live update:
Nagendra Aithal G @aithal_
Radhika Pandit gets more whistles than Ajai Rao #Endendigu #RadhikaPandit :D Bachelor party song s trat to watch #endindigu :D #endidigu 1st half done. Too slow but lovely chemistry between @AjaiRao & RP. @ImranSardhariya has done neat job wit the direction Too many repeated scenes in 2nd half n dragged a lot. #Endendigu disappoints 2 stars
Shashiprasad S M @smshashiprasad
#Endendigu Finally a twist in d tale after a laborious one hour!!! Hope some stuff in the second half!! #Endendigu my take 2.5 only because of #RadhikaPandit kal guna. Otherwise it literally blows ur mind off!
MOVIE LOVERS #ಕನ್ನಡ @MoviePremigalu
#Endendigu final verdict:Excpet @Ajairao & #RadhikaPandit's mind blowing performance,brilliant DOP & brilliant music by V.HARIKRISHNA... @Imransardhariya is not up to the mark and flick could have been far better. Rating:3.25/5 With @Ajairao's #KrishnaLeela still in theaters better watch it than #Endendigu
Goodman @guddusaying
#Endendigu - very diff colorish title card - Done with introduction 1 fight 1 song ..screen is looking richfull with lot of families #Endendigu -2nd second going on...story yet to take off. #Endendigu 3rd song. Very good romantic scenes and dialogues in sweden btw Radhikha pandit and Ajay Roa..story getting interesting. Interval .weird scenes happening .good twist in story. Decent movie so far.waiting for second half. RP acting weird ..guessing she is mental patient. Overall fair tale.light emotional thriller romantic movie 3/5
Cineloka.co.in @cineloka
Ajai Rao - Radhika Pandit starer #ENDENDIGU is a Romantic -Suspense Thriller. Movie starts off with colourful intro to the lead pairs.The first half goes lively with good songs and romantic scenes coupled with good comedy scenes. First half ends with a superb twist which leads to good second half. Movie slows a bit in the second half and ends in a happy note. Ajai Rao n Radhika Pandit Chemistry has worked well for the movie. Radhika Pandit has given fantastic performance. Easily one of her best roles ever played. Cinematography is top class. The locales of Sweden is captured well. It's a treat to watch on big screen. SatyaPrakash dialogues are very good. Imran Sardhariya has shown each n every scene lavishly. The songs are pleasing to eyes. Harikrishna songs and BGM are the major highlight of the flick. Overall movie is worth watching for many such reasons. Watch it with your loved ones.