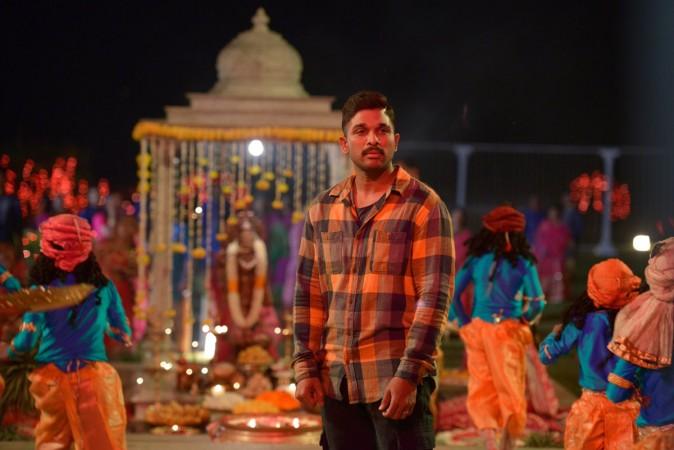 Telugu star Allu Arjun, for the first time, is having a simultaneous release of his movie in Tamil in the form of En Peyar Surya, En Veedu India, which is the dubbed version of Tollywood flick Naa Peru Surya, Naa Illu India. The movie is hitting the screens in over 150 screens in the state with a good hype for the flick in Chennai.
The Tollywood star has collaborated with writer Vakkantham Vamsi, who is making his directorial debut with En Peyar Surya En Veedu India. Anu Emmanuel plays the female lead in the movie and our own Arjun Sarja is playing an important character in the mega-budget project. Sarath Kumar plays the antagonist. Boman Irani, Rao Ramesh, Vennela Kishore, Nadhiya and others are in the cast.
Bollywood music director duo Vishal-Shekhar has scored the music, Rajeev Ravi and Sushil Choudhary have handled the cinematography and Kotagiri Venkateswara Rao has edited the flick.
Story:
The movie tells the story of an army officer Surya (Allu Arjun) and his self discovery. His desire to serve the nation and the hurdles that he faces in the form of power, family, love and the society form the crux of the tale. En Peyar Surya, En Veedu India comes up with a message that the ultimate achievement one can in his life is serving the country. The film also tries to convey that with right attitude one can achieve his goals.
Hype:
The movie has generated a lot of buzz in Tamil Nadu and it becomes evident after a 40-feet cutout mounted at Casino theatre in Chennai. Thanks to the trailer and promos which have helped to create a positive vibes around the movie.
Will the movie live up to the viewers' expectations? Find it out in the audience's words here:
Vaishnavi: #IruttuArayilMurattuKuthu - Lives up to it's title . Fun , and Fun Nothing more or less . ! But the movie is @strictlyforboys
3/5
@Yaashika_Anand @santhoshpj21 @Gautham_Karthik
Christopher Kanagaraj: #NaaPeruSuryaNaaIlluIndia - Full treat. Allu Arjun rocks as Soldier Surya; Solid perf. High voltage fight scenes & terrific bgm adds extra mass. Arjun gets a gud role. Only issue with d film is climax portion (20 mins), could hv been better. Vamsi .
A Power Packed Action Film.
Vj Dinesh: #NSNI #AlluArjun #NaaPeruSuryaNaIlluIndia #NaaPeruSuryaReview: 1st half starts with excellent screenplay with awesome fitness of stylish Star & asusual when love story started makes the movie down Okayish but definitely worth for his physical fitness#EnPeyarSuryaEnVeeduIndia
Sanish22_2: Allu Arjun's #EnPeyarSurya is an intense drama with huge scope for heroism. His best performance till date. He looks stylish and performs the role with ease.
Technically, top notch. BGM and cinematography are best.
Forum Keralam (FK): #NaaPeruSurya #NSNI
Climax - Goosebumps @alluarjun 's success march continues ✌️ Review in few minutes.
#NaaPeruSuryaNaaIlluIndia #NaaPeruSurya #NSNI
#NaaPeruSuryaNaaIlluIndia is patriotism filled intense drama which sticks to its core plot with enough amount of commercial/mass element's and a power packed @alluarjun who comes up with one of his best ever performances.Sure shot winner ✌️#NaaPeruSurya #NSNI
#NaaPeruSuryaNaaIlluIndia Simple intro of Stylish star followed by 2 back to back thrilling action blocks.. Surya takes charge
#NaaPeruSuryaNaaIlluIndia : Technically top notch with slick DOP and the deadly duo @VishalDadlani - Sekhar deserves a huge round of applause for their awe-inspiring background score.Literally Killed it...!!