Employee happiness is one of the key issues that companies are facing today and more organisations are looking at how to boost it in order to become the best in the business. Now Ramco Systems has developed an app that captures the employee mood and helps employers improve productivity. In an exclusive chat with International Business Times India (IBT) Raghvendra Tripathi, Chief Performance Officer (CPO), Ramco Systems, talks about employee happiness, the need for the app and more.
IBT: Why is there so much stress on happiness of employees today?
Today's business globe spines twice as fast, with employees facing do-or-die situations at every other juncture, rising stress levels at workplace. The inability to strike a good work life balance is another key reason for unhappiness. Organisations have realized the catastrophic consequences of unhappy employees. Most unhappy employees eventually and/or reluctantly move on from the company, incurring the organization significant expenses - from the recruitment to on-boarding, training and bringing him/her up to speed. While there are a few who do decide to stay back, the repercussions of an unhappy, uninspired employee are equally disastrous. Studies reveal that human happiness has positive effects on productivity and happiness tends to invigorate and inspire human beings. An inspired employee is any company's best asset.
IBT: Around the globe, the concept of work from home and working on the move has increased. Does this impact employee happiness?
Organisations are gradually adapting to "zero employee cost" model, where zero/minimal cost is allocated to employee management by means of domesticating data through digitisation. Employees are now contracted based on their expertise to complete a specific task or activity. We can broadly categorize today's workforce into passionate Gen-Y workforce and substitutes. While passionate employees have autonomy in their work and are usually highly inspired, substitutes might feel some amount of stress and anxiety.
IBT: What is the EMPSENSE app all about? How will it help employers?
EMPSENSE, derived from EMPloyee SENSor, is a user-friendly app that instantly captures employee mood. In other words, the app helps onsite employees enter their mood with a single tap on devices placed at strategic locations within the premises. The data generated from the app integrates with the rest of the employees' data through an NFC (near field communication)-enabled ID card. Post a detailed analytics, extensive data insights are delivered via a cool UI dashboard. The dashboard provides detailed patterns and trends to team leads and managers, to better engage and inspire their employees.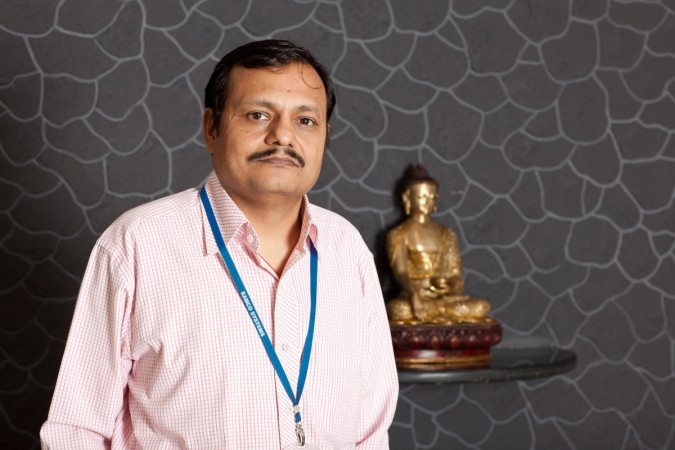 IBT: Is this app the first of its kind?
There are only a handful of apps across the globe that measure employee moods and Ramco EMPSENSE is one of them. What differentiates EMPSENSE from all else is its ability to integrate data with the company's HCM (Human Capital Management) application and derive powerful inferences from detailed analytics. Moreover, the apps are also customisable to include other organisation-specific parameters - simple questions related to growth, quality of life, and remuneration.
IBT: How will this app help employees?
EMPSENSE is powerful in its ability to deliver disruptive results, thus proving to be instrumental in improving/enhancing employee engagement models across the business landscape. Better engagement can lead to increased productivity and reduce burnout scenarios in the workplace. EMPSENSE results are also displayed at various spots of the workplace with results that display the overall happiness percentage in the office. This increases the overall morale of the employees in the organisation when the results are positive. When the results showcase otherwise, it provides an excellent opportunity for the management to further steps towards creating a more conducive work environment for their employees.
IBT: Isn't happiness related to more than just productivity?
Of course it is... While studies do reveal that happiness is correlated to increased productivity, happiness does so much more. A happy employee has reduced stress levels and improved work-life balance. We often see that the major challenge organisations face today is to improve the work-life balance of their employees, in order to lower attrition rates. A happy employee is a balanced employee. Happiness also has an impact of certain physiological reactions that occur in our body, and thus can improve health aspects. It is safe to say that happiness is related to the overall, holistic well-being of employees.
IBT: How would define a 'happy employee'?
A happy employee is someone who understands, likes, values and finds satisfaction in the work they do. They have a sound sense of self-worth in the organisation and a feeling of accomplishment at the end of most work days. An employee who feels a strong sense of belonging and truly identifies himself with the culture in which he operates is an employee who is happy to be where he is.
IBT: What are the other apps Ramco is working on?
We, at Ramco, are constantly thriving on our disruptive innovations. Ramco Systems is now focusing on the application of bots in enterprises for automation and straight-through processing. While bots are the hot favorites of B2C companies, very little has been explored on their role in enterprise applications. We recently created 22 bots related to human resources-related functions and 12 for the aviation industry. The HR bots are already in use within Ramco and we have also are piloting it with a few select clients.