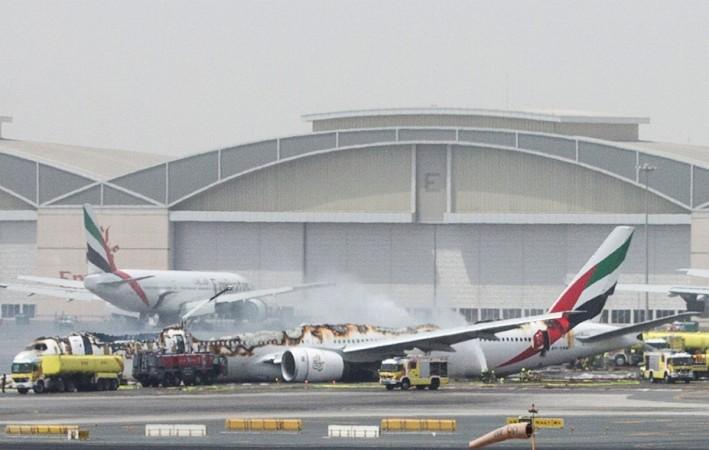 Emirates airlines has offered $7,000 compensation to all passengers of flight EK521 that crash-landed at Dubai airport last week. The airline, which is currently ranked the 'best airline in the world,' is offering the amount to each of the 300 passengers and crew members who were on board the aircraft.
The carrier has offered the financial assistance to help them meet their immediate needs, such as lost baggage, medical costs and other expenses, an Emirates spokesperson confirmed. The Dubai-based carrier also said it would refund the tickets of the flight passengers, Gulf News reported.
Passengers of the flight EK521, that caught fire after crash-landing at the airport on Aug.3, confirmed to the publication that they had received emails from the airline regarding the compensation amount.
"The email came through on Tuesday evening, but I saw it on Wednesday morning. There is no way I will be negotiating on the amount. These people saved my family's life. And that is something that cannot be forgotten," a man, whose wife and two children were on board that flight, was quoted as saying by Khaleej Times.
He further added: "It isn't possible to compensate for loss of life, and we are lucky this compensation is only for the small monetary loss we endured through losing our luggage."
Some passengers are yet to receive the email.
The passengers and crew members had a miraculous escape during the incident. The plane was flying from Thiruvananthapuram to Dubai. One Emirati lost his life during the rescue operation.
Operations at the Dubai International Airport were halted following the accident. Flight operations were resumed three days later. The airport lost $1 million per minute due to the closure, Gulf News reported.
EK521 passengers 'touched' by Emirates compensation announcement pic.twitter.com/fRNFugWtJO

— Gulf News (@gulf_news) August 12, 2016