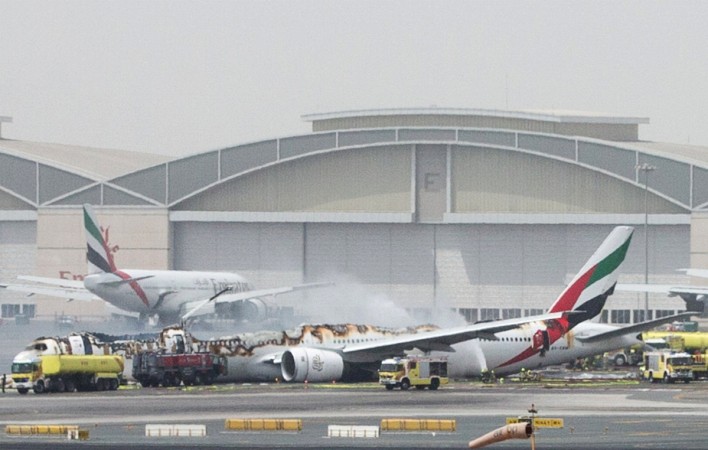 Indian low-cost airlines IndiGo and SpiceJet cancelled all flights to Dubai on Thursday, Aug. 4, due to unavailability of the runway following the crash-landing of Emirates Boeing 777 aircraft at the Dubai International Airport on Wednesday. Jet Airways also cancelled two of its flights — one from Mumbai and the other from Delhi.
"All IndiGo flights operating to and fro India stand cancelled for August 4, 2016. From August 05 till 0730 IST August 07, 2016 — limited flights will be allowed to operate from Dubai airport... All IndiGo passengers are requested to check their respective flight status via customer relations or Twitter/FB or our web site www.goindigo.in. We have already notified passengers via web chat, smses, and through other channels. Our call centre representatives are available 24x7 to address customer queries," IndiGo said in a statement.
"We have cancelled all our 11 flights to Dubai for today due to non-availability of the runway at the Dubai International Airport," an IndiGo spokesperson was quoted by the Indian Express as saying.
Budget carrier SpiceJet also cancelled all flights on Thursday according to instructions received from the Dubai International Airport. The incident led to the diversion of its flights to Al Maktoum International Airport, Ras Al Khaimah International Airport and Sharjah International Airport.
"We are taking all possible measures towards passenger convenience and ensuring food and refreshments are being provided to all of them... We are arranging alternate mode of travel from these airports so that our passengers can reach Dubai city," the airline said in a statement.
Meanwhile, Emirates released a statement, which said that 27 of its flights were cancelled on Wednesday due to the crash-landing. Over 23,000 passengers were affected due to the disruption.
"We sincerely apologise for the inconvenience caused to our affected passengers, and ask for their continued understanding and patience as our teams work to restore operations back to normal," the airline said in a statement.