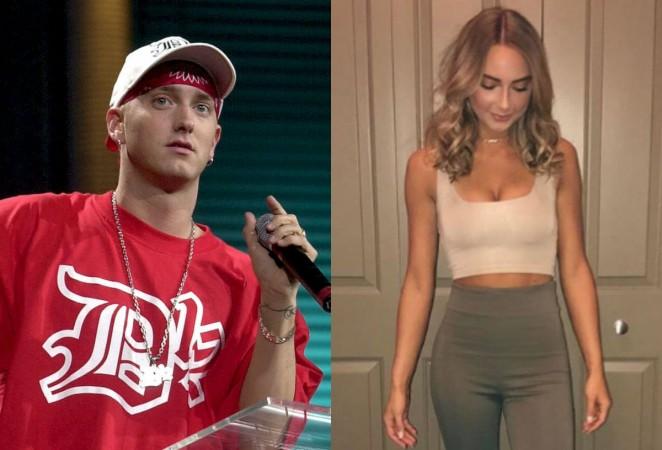 Eminem and his beautiful daughter have been on the road and crashing concerts in the past few weeks. Hailie Scott, who has managed to steer away from the media for most of her life, took to her Instagram account to share a few pictures from her recent rendezvous.
The 22-year-old was with her 45-year-old rapper daddy who was performing in several cities and festivals, including Bonnaroo in Tennessee and Governors Ball in New York City.
It was during one of these gigs that Hailie put together a gorgeous black ensemble. The Michigan University graduate wore a semi-sheer outfit which showed off her curves oh-so-perfectly. She slipped into matching boots for her day out and let her wavy tresses sit on her shoulder.
She kept her accessories to bear minimal for this particular look. She wore a metallic necklace and a few bands on her wrist. She shared two more pictures -- one from the concert and another of her dog posing against a pair of wings.
She captioned the picture: tb to the past few weekends crashing festivals and exploring cities ✈️.
Her trip photographs come weeks after Hailie spoke to Daily Mail and revealed that she shares a close bond with her singer dad. "Of course, we are very close," she told the publication.
While Eminem is a successful musician, Hailie has no intentions of following his footsteps. Instead, she wants to become an Instagram influencer. She's still working through a plan to kick things off.
"I'm not sure yet, it's kind of up in the air, still," she said, explaining her decision of not following her father's footsteps. Giving everyone an example of it, she recently posted a selfie, helping Instagram users on how to use lip gloss. "Pro tip: use lip gloss on the cheeks instead of blush for a more glowy look #mylipglossispoppin??" the captioned read.