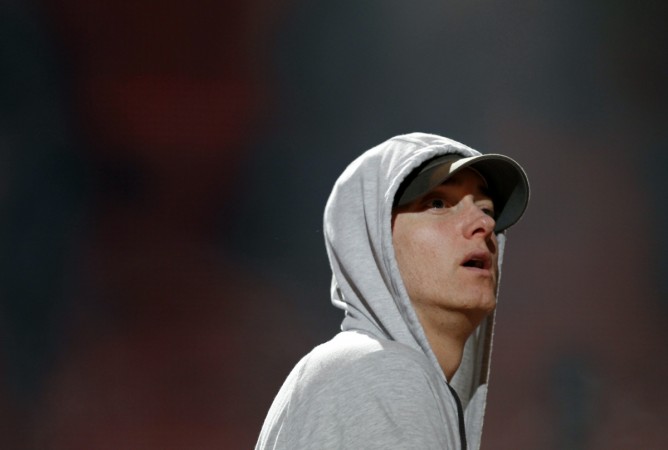 Rapper Eminem has blasted the US President Donald Trump in an interview with Billboard magazine. He said: "A f***ing turd would have been better as a president". He claimed that the billionaire businessman duped his 'fans' into voting for him.
The interview that was published on Thursday witnessed the rapper sharing his thoughts on what he thought of the US Commander-in-Chief during the Presidential elections. 'Watching the TV in f***ing disbelief. I was in my basement, on the phone back and forth with friends like, "He's going to f***ing win,"' Eminem was quoted as saying by Billboard magazine.
He continued his profanity-filled criticism by saying, "I called it just from the rallies he was having when he first started running. Because just watching the impact he has, they were fanatics. There is something to be said about the person who really felt like he might do something for them – and he just f***ing duped everybody."
He has accused the businessman-turned-politician of duping middle-class Americans into voting for him claiming he would improve their lives.
Furthermore, the American rapper has often criticised Trump in the past when he publicly accused him of being a racist and even said that he brainwashed Americans into thinking that he genuinely cared about his voters. He has even slammed Trump for his stance on immigration, gun control policies and white supremacists.
When Trump had his Twitter battles with North Korea's supreme leader Kim Jong-Un, Eminem condemned the US President's actions and called him 'a kamikaze that will probably cause a nuclear holocaust.' He even said that Hillary had her 'flaws', however, Trump was not the right candidate to lead the nation.
"I felt that everybody who was with him at that point doesn't like my music anyway," Eminem told Billboard magazine. "At the end of the day, if I did lose half my fan base, then so be it, because I feel like I stood up for what was right and I'm on the right side of this," he added.
At the end of the interview, he summed up what he thought about Trump in one statement: "I don't like the guy."