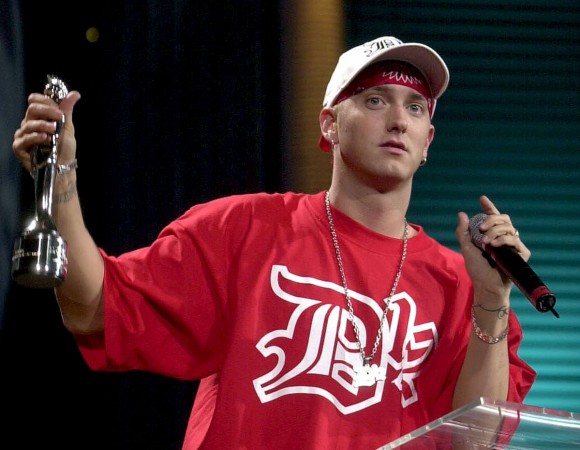 Rapper Eminem is neither in rehab for heroin addiction nor is he quitting music.
Reports, claiming the rapper has announced he is quitting music due to heroin addiction, had gone viral on social media but they have now turned out to be a hoax.
The story was first seen on Huzlers, a satirical website which has come up with several fake reports on celebrities deaths previously.
According to the website, rapper Marshall Mathers, known widely as Eminem, announced that he is done with his music career.
The website reported that Eminem took six years to recover from a cocaine addiction before releasing his album "Relapse" in 2009. And now, after five years, the rapper became addicted to heroin, due to which he is quitting music.
The report also quoted Eminem's long-time manager Paul Rosenberg.
"It may take Marshall another four or five years to recover, but this time, he won't be coming back to make music, he wants to focus more on his family after, and we should all respect his decision. We know that drugs have been a struggle for him for the last decade, it's a tough battle," Rosenberg was quoted as saying.
The website, in its disclaimer, reveals that the stories published by it are false, and hence it should be noted that the rapper's manager's comments are also fake.
Although Eminem has struggled with drug addiction in the past, there are no indications that the issue has resurfaced or that the rapper will go to rehab.
However, several social media users believed the news and expressed their disappointment on Twitter.
"Eminem is addicted to heroine?"
"Eminem is in rehab again for heroine. Now he's done with music. R.I.P to slim shady, he was a legend."
"If this Eminem "Heroine" rumor is true damn. I don't want another "Ass Like That" album faggot. Sober up and rap "Stay Wide Awake" #Crownie."
"Laughing at people who think that Eminem is back to heroine and drugs, like wtf bruhh."
"Genuinely fearing for my idol's @Eminem life. I really hope these heroine rumours are not true. Angry & scared right now."
"huzlers has the most legit totally not fake article about Eminem in rehab again after admitting hes addicted to heroine... like seriously!?"
"I highly doubt the huzlers article on Eminem addicted to heroine is true so just stop."