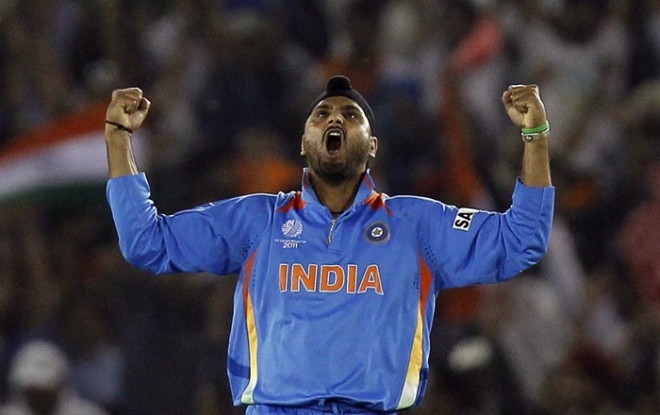 MS Dhoni has tried to stick to winning combinations from India's tour of Australia. India did not make any change during the Sri Lanka series as well, apart from inevitably bringing in Ajinkya Rahane in place of Virat Kohli, who was rested for the T20 series against Sri Lanka.
As a result, veteran off-spinner Harbhajan Singh has not been able to make his way into the playing XI. Ravichandran Ashwin has always been the first choice for Dhoni, and the captain is pretty happy with his decision. And Dhoni probably has every right to be so, because Ashwin has delivered for him in almost each and every game.
But this has disappointed former Pakistan off-spinner and the inventor of "doosra", Saqlain Mushtaq. The legendary spinner says it is indeed really sad to see the way BCCI and the team management are treating Harbhajan Singh.
"I am afraid the Indian cricket board and team management's treatment to Harbhajan has not been great. He was a world-class bowler and is still a world-class bowler. The emergence of Ashwin doesn't mean you drop Harbhajan or put him under tremendous pressure," Mushtaq was quoted as saying by PTI.
"Look, from the time he got dropped (in 2011), he has made three comebacks, which meant that when you needed him, you picked him and when the need was over, you dumped him. So the pressure that you have created on him, you have already negated his past achievements.
"But what logically should have been done is that when his graph was going down, one should have given him a short break and brought him back. He should have been the first choice spinner supported by Ashwin. Instead you put self doubts in him and now made him the third or fourth choice spinner in the side," said Saqlain.
Harbhajan Singh was one of the keys to India's success in the ICC World Cup 2011. He was extrememly efficient with the ball, particularly against Australia and Pakistan. In another two day, India will play against Pakistan in their second match of the Asia Cup T20 2016, and the way things have gone, Harbhajan is unlikely to make it into the playing XI.
However, Dhoni did speak about giving everybody a chance a few days ago. We will have to wait and see whether the "Turbanator" gets a game.
Mushtaq also feared Harbhajan would not be able give his best because of the way he has been treated in recent times.
"Let me be very clear: Even if Bhajji has 100 percent potential, he will not be able to perform because you people have made him feel like a No 4. In the end, players are only human with the same kind of feelings and emotions. A good performance is emotion-driven. If you are in a good space mentally, your graph will go up and vice versa," he said.