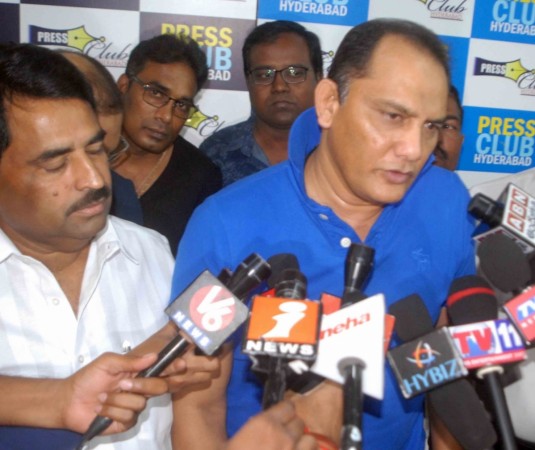 Former India captain Mohammad Azharuddin was insulted in his hometown Hyderabad on Sunday (January 7). An "embarrassed" Azharuddin later lashed out at people responsible for that.
At a Special General Meeting (SGM) of Hyderabad Cricket Association (HCA), Azharuddin was denied entry. He was made to wait for one hour and was later allowed.
Also read: Exclusive interview with Azharuddin
The meeting was called to adopt the recommendations of the Justice RM Lodha Committee. However, Azharuddin was stopped at the main gate of the Rajiv Gandhi International Stadium, the venue for the meeting.
Later, addressing the members of HCA, Azharuddin blasted the officials who did not know "A B C D of cricket".
"Whatever problem you have, I will solve it. There is a misconception that I won't meet you people. If that was the case I would not have come for the meeting," Azharuddin said addressing HCA members.
"It was so embarrassing. Sorry I don't want to say, I was made to wait outside for one hour. I have captained India for 10 years and I am from here, Hyderabad. These people don't know A B C D of cricket. They have never held a bat or ball," the former right-handed batsman, who played 99 Tests for India, added.
"I wonder according to which Lodha guidelines the office-bearers are still in power. The image of the HCA itself has taken a beating. Cricket is different from politics and it's the cricketers who are suffering the most. My fight is not against any individual, but against the system riddled with flaws," the 54-year-old was quoted as saying in the media.
"This is an illegal body with the president [G Vivekanand] himself facing a conflict of interest by being Advisor to the State Government. The irony is that this is the fourth meeting being convened by the ruling group to implement the Justice Lodha Committee recommendations.
"I am grateful to all the members, including Shiv bhai (Shivlal Yadav) and VHR (V Hanumantha Rao) sir, who supported my cause today and saw to it that I eventually attended the meeting and made a point," Azharuddin said.
Several members of HCA questioned the association's president Vivekanand's move to stop the former India skipper from attending SGM.
Former president of the Board of Control for Cricket in India (BCCI) N Shivlal Yadav, who was with Azharuddin at SGM, said, "It was terrible to make former India captain Azhar sit outside the meeting hall for about an hour and allow him to attend the meeting only after a vociferous demand from all of us (the members)."
HCA president Vivekanand later said, "We needed to endorse the Lodha panel guidelines to get funds to run the show. We will not back out just because someone is indulging in false allegations. We are here to serve the game in the best interests of the players."