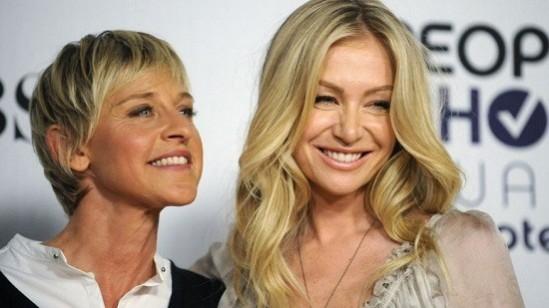 Reports of Ellen DeGeneres and Portia de Rossi's divorce refuse to die down. The latest buzz is that the DeGeneres-Rossi split could be one of Hollywood's dirtiest divorces ever.
In Touch magazine reported that the divorce is imminent but will not be easy, as it involves DeGeneres' $345-million fortune. According to the tabloid, the two have been fighting over DeGeneres' drinking habits, controlling nature and other aspects.
"They've had heated debates about Ellen's controlling behaviour," In Touch magazine quoted an insider as saying. The magazine further reported that DeGeneres doesn't want Rossi to work and the latter is "frustrated with her role as trophy wife."
"[They] always seem to be on the verge of a breakup over one crisis or another," the insider said, adding, "But now a divorce is imminent."
"It was two-fold. Ellen's obsession with controlling Portia's personal life and career, and then Ellen's insistence on not starting a family. That's the biggest hurdle they can't seem to overcome — Portia wanted children and Ellen didn't," the insider said.
DeGeneres married Rossi in 2008 at their home in Beverly Hills. The couple stayed strong, but over the years, reports of their split have continuously surfaced online. The recent In Touch magazine report came after DeGeneres spoke to the People about her and Rossi's relationship.
"Because not everybody finds that. Not everybody finds that best friend," she told the People in an interview.
"Portia and I constantly say to each other, 'We are so lucky.' Sometimes it's lying in bed at night before I go to sleep, and I just say thank you to whatever, whoever is out there," DeGeneres said. "I've gotten to a place where I really am just settled. Really. I know that I'm not going anywhere. She's not going anywhere. I'm not saying the relationship took a while; I'm saying in my life, it took a while to find this."