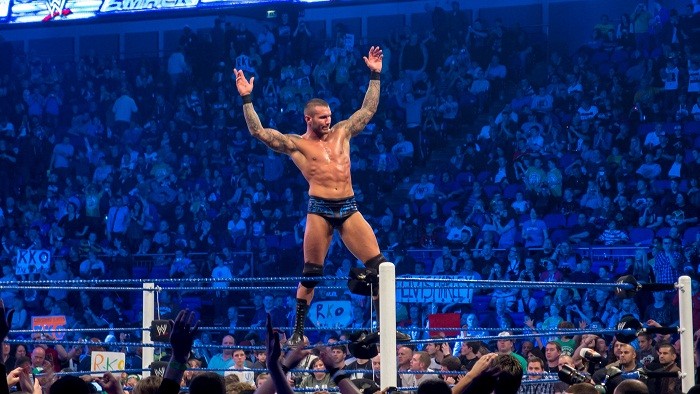 WWE's fist pay-per-view of February, Elimination Chamber, certainly had a few interesting matches set up with the WWE Championship, WWE SmackDown Women's title and the WWE SmackDown Tag Team title all on the line.
Also read: WWE return unlikely but a return to UFC possible for CM Punk
Becky Lynch and Mickie James contained their rivalry after it was revealed that James was the "La Luchadora" in disguise and Nikki Bella and Natalya also continued their rivalry after Carmella revealed earlier that it was Natalya that attacked her before her match at Survivor Series.
In the other matches, Kalisto and Apollo Crews took on Dolph Ziggler in a handicap match, Randy Orton and Luke Harper continued their feud since they lost the Tag Team Championship and in the pre-match show Mojo Rawley took on Curt Hawkins.
Here are the results from the 2017 Elimination Chamber.
In the pre-show match, Mojo Rawley defeated Curt Hawkins.
1. Becky Lynch defeated Mickie James via pin fall.
This was the first of three women's matches at the Elimination Chamber and after a collar-and-elbow tie-up that started the match, Mickie James took control of the match as she hit Becky with DDT and started to work on Becky's arm for the rest of the match.
Lynch tried to fight back but James did not give her any time to recover as she hit her with a seated senton that got her the two count. James would follow that up with a Mick Kick but that could not get her the win either. Then James went for another DDT, but Becky countered that into a suplex.
Then Becky went for the Disarmer which James countered into a roll-up which Lynch countered into another roll-up to the win.
2. Kalisto and Apollo Crews defeated Dolph Ziggler via pin fall.
Before the match could even start, Dolph Ziggler attacked Kalisto to set up a singles match between him and Apollo Crews. Ziggler dominated most of the match until Kalisto returned. Crews hit Ziggler with a low drop kick allowing Kalisto to get revenge on Ziggler for what he did prior to the start of the match.
Later Ziggler was hit with a sit-out power bomb as the team of Apollo Crews and Kalisto got the win. After the match, Ziggler pulled Kalisto from the ropes and attacked Crews with a chair as he did so often in recent weeks. He trapped Crews ankle in the chair and then jumped over it as Crews screamed in agony.
3. American Alpha defended their WWE SmackDown Tag Team Championship by eliminating The Ascension.
The former Tag Team champions, Heath Slater and Rhyno would get this Tag Team Turmoil match underway and they went up against Breezango (Tyler Breeze and Fandango) first and despite Breezango dominating most of the match, Rhyno hit Fandango with a spear out of nowhere to eliminate them.
The Vaudevillains (Aiden English and Simon Gotch) would be the next to enter the ring, and with Slater still trying to recover from the beating of the previous match, they started to attack him but as he has done on so many occasions he managed to get the win after he pinned Aiden English.
The Usos (Jimmy and Jey) would later enter and end up eliminating Slater and Rhyno after Slater was hit by super kick and then the defending Tag Team Champions, The American Alpha (Chad Gable and Jason Jordan) entered next and The Usos immediately isolated Chad Gable but Gable finally made the tag to Jason Jordan and he exploded in the ring and then a blind tag to Gable allowed him to get the pin fall and eliminate The Usos.
With The Usos angry at their elimination, they attacked the American Alpha team leaving them lying in the ring as the Ascension (Konnor and Viktor) were the last team to enter. Konnor and Viktor dominated the action until a big belly-to-belly overhead allowed Jordan to gain separation. Gable was tagged in and Grand Amplitude earned the champions the victory.
4. The match between Nikki Bella and Natalya ended in double count-out.
After a lot of exchanges to start the match, Nikki tried her luck with a clothesline off the ring apron only to be shoved into the ring post moments later and Natalya took control of the match. While Natalya seemed really overconfident once she took control by trash talking, her overconfidence cost her as Bella fought back but a Michinoku Driver by Natalya kept her in control.
Then Bella out of nowhere escaped an attempted sharpshooter and hit Natalya with a forearm that got her the two count and then she tried her luck again with a spine buster but once again managed only a two count.
Natalya later finally locked in the Sharp shooter but later Bella countered it into a Fearless lock as both women fell outside the ring. While they threw each other at the guardrail, they lost track of the referee's count as the match ended in a double count out.
5. Randy Orton defeated Luke Harper via pin fall.
Randy Orton tried to bring down Luke Harper with a head lock, but Harper fought back and nearly got the pin fall. He then avoided a DDT and send Orton crashing throat first into the bottom rope. He then hit Orton with a Suicide Dive that knocked Orton over the announce table.
He then dropped Orton back first onto the announce table and then returned strong a power slam to Harper on the floor as the two men were on the floor catching their breath. Orton followed that up with a full nelson by only got a two count and the draping DDT followed. Orton then got ready for the RKO, but Harper hit him with two super kicks for a two count.
As Harper tried to tee up Orton for his discus clothesline, Orton shoved his arms aside and finally hit him with the RKO to get the win.
6. Naomi defeated Alexa Bliss to become the new WWE SmackDown Women's Champion.
Alexa Bliss started the match by disrespecting Naomi as she threw gun at her face and she showed her confidence as she countered everything the challenger threw at her. Both women hit a double kick and went down but this was a turning point for Naomi.
Naomi hit Bliss with a series of kicks and a Clothesline but as she attempted to pull Bliss out of the corner she got hit with a big kick but Naomi responded well with a Rear View but only to two count.
Alexa Bliss grew really frustrated and Bliss attempted a Twisted Bliss which was countered by Naomi as she landed the split-legged moonsault to win her first Women's title.
7. The Elimination Chamber match was won by Bray Wyatt who eliminated AJ Syles to win the WWE Championship
John Cena and AJ Styles got the much-awaited Elimination Chamber match underway and they picked up from where they left off at Royal Rumble until Dean Ambrose entered the match. Ambrose first hit Styles with a big suplex straight on the chamber floor and then took out John Cena with a big elbow.
Bray Wyatt then entered and he too started out strong as he hit Cena with a clothesline and then sent styles straight into the chains of the Elimination Chamber. As the match progressed, Cena and Styles climbed the top of the cell only for Styles to send his crashing down. Soon Baron Corbin and The Miz also entered the match and Corbin wasted little time as he hit Styles and Cena with End of days.
Ambrose then rolled up Corbin as he became the first wrestler to get eliminated and then Corbin angry at being eliminated tossed Ambrose onto one of the pods and then hit him with the End of days and Miz capitalised and eliminated Ambrose.
Cena then took things into his own hands as he eliminated Miz and then followed that up by hitting the 10 Knuckle Shuffle to Styles and Wyatt. Wyatt then hit Cena with a Sister Abigail and pinned him. As Styles attempted a springboard 450 splash he landed on Wyatt's knees and Styles tried it again and this time he landed straight in the arms of Wyatt who hit him with a Sister Abigail to become the new WWE Champion.