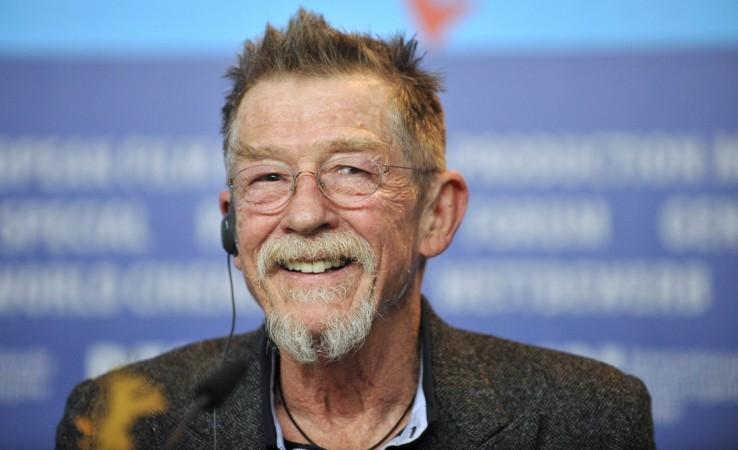 Bafta Award-winning actor John Hurt, who is known for his roles in the films Harry Potter, Alien and The Elephant Man, passed away at the age of 77, his publicist Charles McDonald said on Friday. McDonald did not reveal any other details about Hurt's death.
Also Read: From Carrie Fisher to Alan Rickman, here is a list of Hollywood actors who died in 2016
Hurt, who was diagnosed with pancreatic cancer in 2015, is survived by his wife Anwen Rees-Myer. During his career spanning over six decades, Hurt gave memorable performances in movies like The Elephant Man, V for Vendetta, Hellboy, Snowpiercer and others. He was also nominated for Oscars twice, first in 1979 for his role in Midnight Express and then for his role in The Elephant Man in 1981. In 2012, Hurt was honoured with BAFTA Award for his contribution to cinema.
He recently starred in the Oscar-nominated film Jackie, which is a biopic on former US President John F. Kennedy's wife, Jacqueline Kennedy Onassis.
In his last interview in 2015, Hurt had talked about his cancer treatment and death. He told UK's Radio Times in 2015 that he did not fear death. "I can't say I worry about mortality, but it's impossible to get to my age and not have a little contemplation of it," Hurt said.
"We're all just passing time, and occupy our chair very briefly. But my treatment is going terrifically well, so I'm optimistic," he added.
Tributes from the film industry started pouring in on Twitter after news of his death broke out. Director Mel Brooks tweeted, "No one could have played The Elephant Man more memorably. He carried that film into cinematic immortality. He will be sorely missed."
Stephen Fry: Oh no. What terrible news. We've lost #JohnHurt as great on the stage, small screen and big. A great man & great friend of Norfolk & #NCFC
Elijah Wood: Very sad to hear of John Hurt's passing. It was such an honour to have watched you work, sir.
Chris Evans: John Hurt was one of the most powerful, giving, and effortlessly real actors I've ever worked with. Remarkable human being. U will be missed