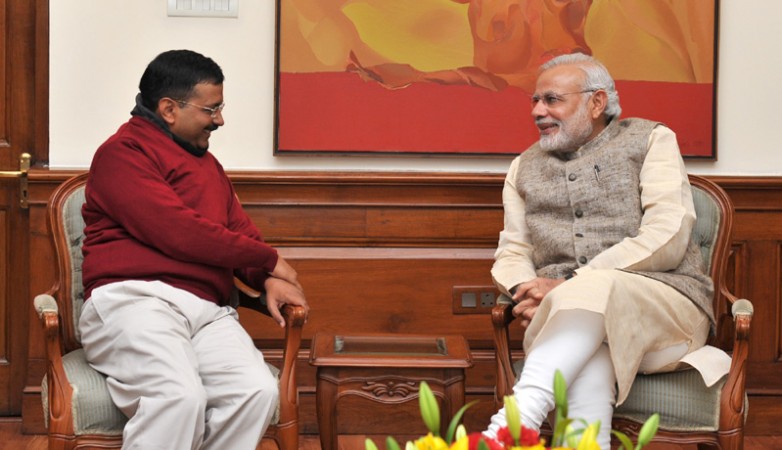 Delhi has always been under Congress' regime but Aam Aaadmi Party's Arvind Kejriwal took over in 2015. However, the exit polls, if they turn out to be true, predicted Bharatiya Janata Party's thumping victory in the Union Territory in 6 out of 7 seats.
AAP will face a huge setback if the exit polls turn out to be correct. The exit polls also predicted Congress to win 0-1 seat in the region.
The situation is the same in Haryana too with the exit polls predicting its win with 8-10 seats under its belt and since Haryana send 10 MPs to the Lok Sabha, it will be a clear majority.
Punjab is slightly different from the other two states with the polls predicting Captain Amarinder Singh from Congress will retain his position as the chief minister.
The India Today-Axis My India exit poll said that Congress might win 8-9 seats in the state and Punjab sends 13 MPs to the Lok Sabha, thus a clear majority. The BJP might win 3-5 seats and the AAP, one seat.
Live Updates
2019-05-2317:30 (IST)
PHOTOS | Sunny Deol thanks fans after thumping victory in Gurdaspur
2019-05-2316:54 (IST)
WATCH | Captain Amarinder Singh addresses the media
2019-05-2315:58 (IST)
Captain Amarinder distressed over Sunil Jhakar trailing in Gurdaspur
Captain Amarinder Singh, who is looking to come back as chief minister of Punjab for another term expressed his distress on how Sunil Jhakar is trailing in Gurdaspur, behind BJP's Sunny Deol.
He was quoted as saying, "Sunil is a fine candidate, he had done a lot of work there. This is one thing I didn't understand that people gave preference to an actor than experience."
2019-05-2314:15 (IST)
Union Minister Mahesh Sharma leading in Gautam Buddh Nagar
Union Minister Mahesh Sharma is leading in Gautam Buddh Nagar by 45,000 votes with a total of 98,993 votes. PTI reports that this is reported after four rounds of counting.
2019-05-2312:55 (IST)
People are looking forward to next government of PM Modi: Amit Malviya
"The people on the ground are not buying the narrative of the opposition that people are under threat. People are doing well that they are looking forward to the next government of Narendra Modi. We have to realise that Modi's government inherited a very weak economy and he did a very phenomenal job (in the last five year)," Amit Malviya was quoted as saying by Financial Express.
2019-05-2312:52 (IST)
Former Congress member to win for BJP in Gurugram
Former Congress leader Rao Inderjit Singh who contested from Gurugram for the BJP is ready to win the Lok Sabha elections.
Rao represented the constituency for two years for the Congress and was the MP too from 2009 to 2014. He then switched to BJP in 2014.
2019-05-2311:49 (IST)
Gambhir leads in East Delhi
Gautam Gambhir leading in East Delhi constituency by 18,632 votes more than Congress' Arvinder Singh Lovely.
2019-05-2310:53 (IST)
Not all people are bad in Congress: BJP's Manoj Tiwari
"In Congress, all people are not bad. Some of them are aware that the party did mistakes in the past and they have to face the repercussions now. Those who cannot work like Modi ji, can at least praise him as he has set very high standards," BJP's Manoj Tiwari told ANI.
2019-05-2310:45 (IST)
Congress leading in 8 seats
Out of 13 seats in Punjab, Congress is leading in 8. BJP and SAD lead in two seats each and AAP is leading in one.
2019-05-2310:01 (IST)
BJP leading in Delhi
BJP is leading in all seven seats in Delhi
2019-05-2309:47 (IST)
NDA leads in Haryana
NDA leading in 9 out of 10 seats in Haryana
2019-05-2309:39 (IST)
Polling trends in Punjab
Who are leading in Punjab?
Sunny Deol (BJP) - Gurdaspur
Manish Tewari(Congress) - Anandpur Sahib
Gurjeet Singh Aujla (Congress) - Amritsar
Harsimrat Kaur Badal (SAD)- Bhatinda
2019-05-2309:27 (IST)
BJP leading in Delhi
According to early trends from the Election Commission, BJP is leading in Delhi.
North West - Hans Raj (BJP)
South Delhi - Ramesh Bidhuri (BJP)
West Delhi - Parvesh Sahib Verma (BJP)
2019-05-2309:21 (IST)
Congress ahead in Punjab
In Punjab's Khadoor Sahib seat, Congress is leading with 721 votes for Jasbir Singh Dimpa, with his rival, SAD nominee Bibi JagirKaur trailing.
2019-05-2309:12 (IST)
Punjab - Congress leading in four constituencies
In Ludhiana, Ravneet Singh Bittu of the Indian National Congress is leading. Amritsar sees Gurjeet Singh Aujila (INC) in the forefront and Jalandhar has Santokh Singh Chaudhary leading. In Faridkot, Mohammad Sadique is leading.
All four participants are from the Indian National Congress.
2019-05-2309:09 (IST)
Raghav Chadda trailing in South Delhi
AAP's Raghav Chadda trailing in South Delhi. He is contesting against Olympic boxer Vijender Singh.
2019-05-2309:04 (IST)
Visuals inside counting centre in Chandigarh
Visuals from inside a counting centre in Chandigarh; Congress's Pawan Kumar Bansal, BJP's Kirron Kher and AAP's Harmohan Dhawan are contesting from the Lok Sabha seat. pic.twitter.com/8EuV2wWi9M

— ANI (@ANI) May 23, 2019
2019-05-2309:00 (IST)
Punjab, Haryana, Chandigarh polling percentage
Polling percentage
Punjab (13 seats) - 59%
Chandigarh - 64%
Haryana (10 seats) - 69.50%
2019-05-2308:57 (IST)
Punjab first trend
Congress leads in Punjab in the first trends with 4 seats and BJP with 1
2019-05-2308:29 (IST)
PHOTOS | Counting underway in Delhi's Siri Fort complex
2019-05-2308:24 (IST)
Gambhir accuses Kejriwal for circulating the pamphlet
Former cricketer Gautam Gambhir, who is contesting from East Delhi for the BJP, accused AAP's Arvind Kejriwal for the pamphlet about Atishi. Atishi is Gambhir's rival in East Delhi constituency.
The pamphlet, which was circulated two weeks ago, spoke ill about Atishi and her family. AAP accused BJP and Gautam Gambhir for circulating the pamphlet while Gambhir called out Kejriwal for circulating the 'misogynistic' pamphlet.
2019-05-2307:59 (IST)
Counting to begin at 8 AM
The counting of votes in centres across the country will begin at 8 AM.
2019-05-2307:42 (IST)
PHOTOS | Security beefed up outside counting centres across Punjab
2019-05-2307:40 (IST)
Ajay Maken confident of Congress victory in New Delhi constituency
"The results will be definitely in favour of Congress. We're expecting that Congress will win &form govt. Rahul Gandhi will be the PM. The fight in Delhi is between BJP and Congress," Ajay Maken, the Congress candidate from New Delhi seat said.