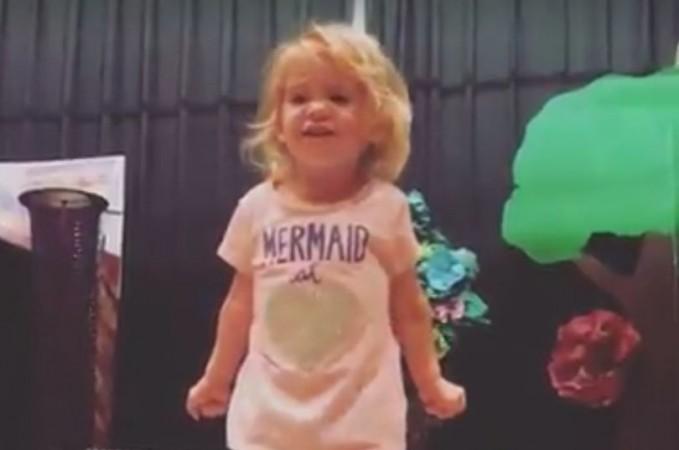 Violet Ogea is just 2-years-old, but she has won many hearts on the internet with her singing talent. Violet has become an internet sensation after a video of her singing operatic version of the alphabet song with passion has gone viral on social media.
The video posted on Facebook by Violet's mother, Christina Ogea, has received more than 4.6 million views, over 73,385 shares and more than 6.7 K comments.
The video shows Violet singing ABC at her pre-school, Southfield School. Violet sings like this almost every day with same passion, her mother said.
"She goes to Southfield School for pre-school and every day when I pick her up she runs to the theatre and makes me and her brothers sit in the audience so she can sing for us. She really digs the acoustics in there. But she learns the songs at night when I rock her to sleep. She would start singing them back to me so I decided to start singing the alphabet to her so she could learn them. We are always playing music in our house, dancing with the kids and she just loves to sing for us all. And this is just the way she likes to sing," Christina told CNN.
Violet's singing talent has garnered praises from several people on Facebook and among them is actor Jesse Tyler Ferguson. The actor shared the video on his Facebook page and compared Violet to Broadway legend Elaine Stritch.
"I can't help but think this what Elaine Stritch was like as a child. Obsessed. #BigFinish," Ferguson wrote on his Facebook page when he shared the video.
Here is what others have commented:
Dria Allen: She actually has a great singing voice!!! Gone head baby
Angela Martin Tilley: I want her in my class. Whew.
A'riel Lasandra: This little girl is going to be something big! She makes me so happy with her confidence
Bekah Brown Natalie: I CANNOT WAIT until you and James have videos of Baby Casey singing and belting it out like this. This was so precious!