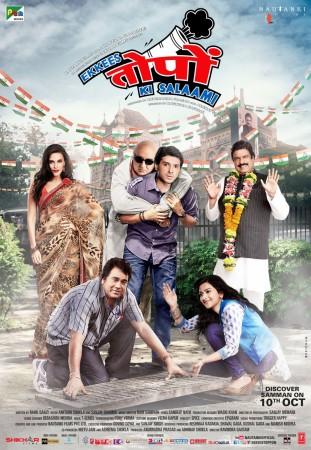 "Ekkees Toppon Ki Salaami", which was released on Friday has received mediocre reviews from the critics. The film's storyline is similar to the cult classic "Jaane Bhi Do Yaaro".
Directed by Ravindra Gautam, the film features Anupam Kher, Neha Dhupia, Divyendu Sharma, Manu Rishi, Aditi Sharma and Rajesh Sharma in key roles.
Critics have said that the film is lengthy, which serves as a main drawback point. Acting wise, veteran actor Anupam Kher shines, while other actors acted decently.
Read the complete review below:
Prateek Sur of BollywoodLife.com said that the film is long, but it is worth watching it. "It's worth it. The movie's story line and comedy punches are great. If you are a fan of political satires, this is one movie you should not miss. It's worth every penny you spend," he said.
Nandini Ramnath of Scroll.in said that the film is shows anti-corruption message in a very simple way.
"Director Ravindra Gautam and writer Rahil Qazi don't make it easy for their characters to go about arranging for the salute, but they don't let the audience off lightly either. A smart concept is stretched till it snaps over 140 minutes," Nandini said.
Suprateek Chatterjee of Firstpost said that the film's storyline is promising but it disappoints in the end.
"Ekkees Toppon Ki Salaami is a well-meaning socio-political satire that tries to walk the fine line between excess and intelligence. It nearly succeeds but unfortunately, somewhere near the end, the film stumbles and sinks into a familiar pit."
Mohar Basu of Koimoi.com said that "Ekkees Toppon Ki Salaami" is an average film. "Ekkees Toppon Ki Salaami is not a work of genius but is earnest at what it does. Anupam Kher's performance shines and though the plot has its peaks and lows, the story's soul wins eventually. You can give it a try because it isn't cinematic beat but definitely a story that should be," Mohar added.
Rohit Khilnani of India Todaygave two stars and said that the film is unbearable. "If your idea of going for a film is to get entertained and have a good time, then this is not something you would want invest your time in."