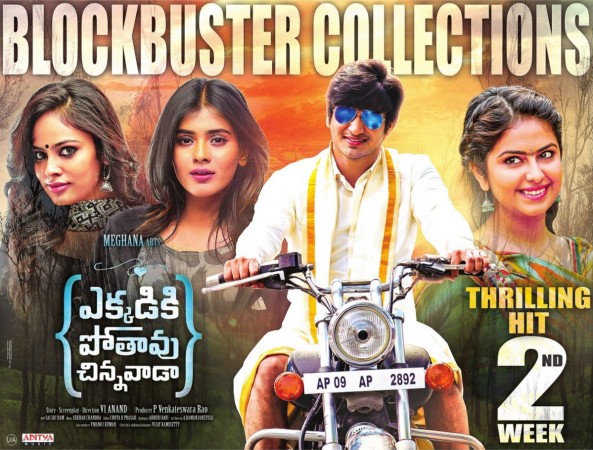 Nikhil Siddhartha and Nandita Swetha are visiting theatres in Vijaywada, Guntur, Eluru and Rajhamundry to thank audience for making Ekkadiki Pothavu Chinnavada a (EPC) big hit at the box office.
Ekkadiki Pothavu Chinnavada was released in theatres on November 18 and has made superb collection at the worldwide box office in the first week. A strong word of mouth helped the movie continue its dream run at the ticket counters in the second week. The film has been running with packed houses even on the weekdays. The superb response made the makers increase its screen count in the second week.
G Sriniwasa Kumar, the publicist for Ekkadiki Pothavu Chinnavada, tweeted on Sunday: "Krishna district 10th day share is 9lakhs+ for #EkkadikiPothavuChinnavada equal wth 1st day. Meaning of a True Blockbuster Going Vry STRONG." He added: "Multiplexes to single screens #EkkadikiPothavuChinnavada dominating 2nd weekend too with additional screens. BLOCKBUSTER entertainment."
The cast, crew, producers and distributors of Ekkadiki Pothavu Chinnavada are thrilled over the fantastic response and they could not stop thanking the audience for their support. Actor Nikhil Siddhartha, actress Nandita Swetha and director Vi Anand have planned to tour Andhra Pradesh and Telangana to thank viewers.
Nikhil Siddhartha tweeted on Monday: "Tomorrow APSARA THEATRE Vijaywada ki EKKADIKI POTHAVU CHINNAVADA TEAM mottam vostundi morning show ki @Nanditasweta @directorvianand." He added this morning: "U will love the Welcome from Movie Lovers in VIJAYWADA GUNTUR ELURU nd RAJHAMUNDRY Today AMALA ;) Ekkadiki Pothavu Chinnavada Success TOUR."
Nandita Swetha also confirmed that she will be a part of the success tour of Ekkadiki Pothavu Chinnavada. The actress tweeted: "I hate travelling. But today little excited. My first road trip to #Vijaywada. #Successtour."
G Sriniwasa Kumar tweeted: "EPC Team is Coming to your Theatres on the Success TOUR.nd we will be in VIJAYWADA GUNTUR ELURU RAJHAMUNDRY Today :) So catch us in theatres."
Ekkadiki Pothavu Chinnavada is a romantic thriller film that deals with the love story of a graphic designer who works in a visual effects department of a major film. The movie has been written and directed by Vi Anand and produced by PV Rao. Nikhil Siddharth, Hebah Patel, Nandita Swetha and Avika Gor have played the lead roles in the film, which has Sekhar Chandra's music and Sai Sriram's camera work.