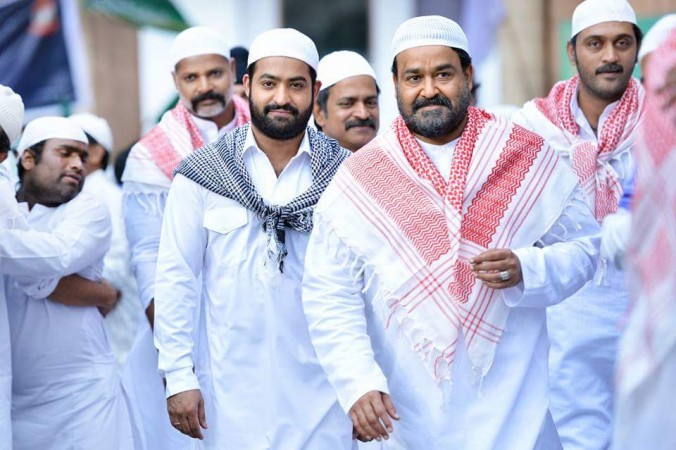 Superstar Mahesh Babu, Junior NTR, Samantha, Rakul Preet and other Telugu celebs have wished their Muslim fans on the occasion of Eid al Fitr, which marks the end of Ramadan and beginning of Shawwal.
A host of celebs from the Telugu film industry took to their Twitter handles on Wednesday and Thursday to wish their Muslim fans. They also shared some photos to convey their wishes. We bring you their comments and pictures posted on Twitter. Continue to see them below.
Mahesh Babu: Wishing everyone a very happy Eid. Eid Mubarak to all :)
Samantha: #EidMubarak my friends! #EidMubarak May Allahs blessings be showered upon you and your family . Peace and happiness to you. Chichas at Masab Tank #hyd #eidfeast feast guaranteed . Whatteee meal ❤️❤️❤️ still in food heaven #aboutlastnight
Lakshmi Manchu: The taking of 1 innocent life is like taking all of mankind...& the saving of one life is like saving all of mankind.(Koran, 5:33)Eid Mubarak
Vishnu Manchu: Eid Mubarak! Today and tomorrow. Allah o Akbar! Peace Peace Peace.
Actor Aadi: #EidMubarak to all my friends
Ram Pothineni: Eid Mubarak to all you lovely people.. #love
Mohanlal: Eid Mubarak...May the divine spirit of Ramadan fill your life with happiness, peace and prosperity
Baahubali: Happy #EidMubarak to you all :) #Baahubali #Eid
Nikhil Siddhartha: We Indians Love our Festivals.. we Indians love our Religions nd cultures... We love Ramzan.. Sabko Eid Mubarak :)
Rakul Preet: Eid Mubarak to all !! :) may all ur wishes come true !
KARTHÄ°KA: Eid Mubarak lovelies!!Eid specia:catch me on #FlowersTV #ComedySuperNights at 8.30pm tonight with these 2 cuties..
Thaman Shivakumar: #EidMubarak to all my lovely dear friends God bless with more love,peace and joy :)
Gopichand Malineni: EID MUBARAK
Anil Ravipudi: Eid Mubarak
Pia Bajpai: Eid Mubarak ❤️
Anjali: Eid Mubarak ☺️
Hansika Motwani: Eid Mubarak
SONAL CHAUHAN: Chand Mubarak !!!!
Trisha Krishnan: Eid Mubarak