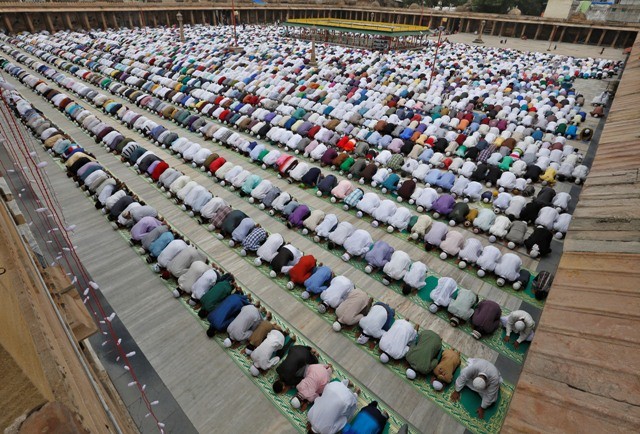 Eid Mubarak.
Muslims all over the world are awaiting to celebrate Eid al-Fitr or the "Feast of Breaking the Fast" to mark the end of Ramadan, which is likely to fall on Friday, 17 July, based on astronomical calculations.
Indian Celebs Wish their Fan Eid Mubarak
Devotees fast for 30 days from dawn to dusk during the Islamic holy month of fasting and this year the fasting began on 18 June.
Pictures of Muslim Devotees Celebrating the End of Holy Month Ramadan
The day is also celebrated by organising family unions, preparing special dishes and exchanging gifts. With the advancement of technology, people have also started sending messages and greetings on this special day through social media.
How First Day of the Islamic Holy Month was Observed Around the World [PHOTOS]
Check out some of the best SMS, Whatsapp and Facebook messages and greetings that can be shared with your friends and family on Eid 2015 below:
Before the golden sunrise, let me decorate each of the rays with wishes of success, prosperous and happiness for you and your family. Eid Mubarak
I wish a wish for you.
The wish I wish for few.
The wish I wish for you is that
Your all wishes come true
So keep on wishing
As my all wishes are with you.
Eid Mubarak
May Allah bless:
Your days with happiness;
Your weeks with prosperity;
Your months with contentment;
And your years with love and peace!
Happy Eid al-Fitr!
Before the golden Sun rises, let me decorate each of it's rays with wishes of success, prosperity and happiness for you and your loved ones!
Eid Mubarak!
Do you know the meaning of EID?

E - Embrace with open heart
I - Inspire with impressive attitude
D - Distribute pleasure to all
May Allah bless you and you have a happy and prosperous Eid celebration.
As Allah waters HIS Creation,
May HE also sprinkle HIS wondrous
blessings over you and your beloved ones.
(Aameen).
Before the networks get busy, wishing you the best Eid greetings - Eid Mubarak
May the blessings of Allah fill your life with happiness and open all the doors of success now and always.
You are awarded a bouquet of good deeds, a vase of blessing, a parachute of glad tidings for completing the Holy Ramadan.
You fasted and prayed,
You remained good for the last 30 days,
Now, its time to celebrate.
Happy Eid Mubarak
After 1 day
After 24 hours
After 1,440 min
After 86,400 sec

Before everyone send you greeting, here is my first wishes specially for you.

Wishing you and your family a very Happy Eid Mubarak.
Eid is a holy day
To Pray
To Care
To Love
To Relax
To Smile
To Spend with Family

Thank Allah for His kindness
Happy Eid ul-Fitr!
E: Earnest
I: Introspection to attain
D: Divineness

Happy Eid al-Fitr!
May Allah flood your life
with happiness on this occasion,

Your heart with love,
Your soul with spirtual,
Your mind with wisdom,
Wishing you a very Happy Eid Mubarak
Credits: sms4smile.com, hamariweb.com