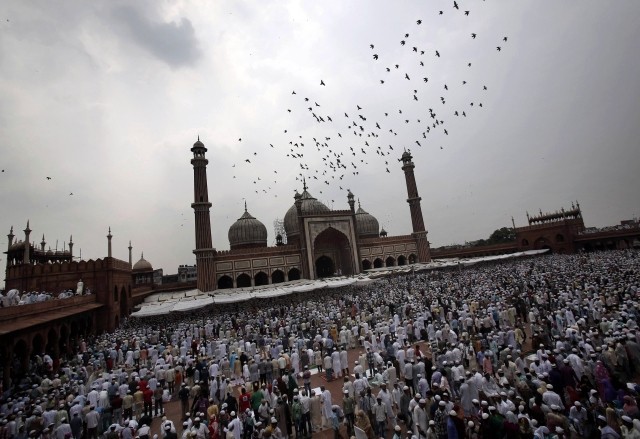 End of Ramadan and beginning of next month, Shawwal, in Islamic calendar will be marked with Eid al-Fitr.
Eid al-Fitr is a three day festival, which will start after the sighting of the moon. While, several Muslims celebrated the festival of breaking fast on Monday, others will celebrate it on Tuesday.
In UAE, the Moon Sighting Committee announced Monday as the first day of Eid al-Fitr.
"After a number of legitimate measures, as well as several contacts with neighbouring countries, it was established that Sunday was the last day of Ramadan, and Monday is the first day of Shawwal, marking the first day of Eid Al Fitr in the UAE," Gulf News quoted Sultan Bin Saeed Al Badi, Minister of Justice and head of Moon Sighting Committee, as saying.
In India, Pakistan, Bangladesh and several other Asian countries, Monday will mark the end of holiest month in the Islamic Calendar, Ramadan, and Eid will be celebrated on Tuesday. The moon sighting in Asian countries will take place on Monday night.
Eid is celebrated on different dates in different parts of the country depending on moon's sighting.
This year, for the first time an UAE Eid al-Fitr moon sighting panel has provided a video online for Muslims to watch the crescent moon from their homes. Click here to watch the moon online.
Islamic Crescents' Observation Project (ICOP) on their website has uploaded a video from where one can watch the moon. The video has been monitored from Amman, Jordan.
"In case the crescent is visible, then the visitor will be the first to see it along with the observers. The technique we are using CCD Imaging. This is a new technology used for crescent sighting," ICOP said in a statement, according to Emirates 24/7.
"Afterwards, image processing (contrast tuning) might be needed, and then the crescent could appear. This technique surpasses the naked eye observation and the telescope, as the crescent can be seen at daytime, even if the crescent cannot be seen by naked eye or by the telescopes. Thus, we usually start this kind of observation early morning, and we keep following the crescent until sunset and moonset.
"We leave aside whether this kind of observation is accepted by Shariah (Islamic) point of view or not. We just do a scientific work, and then it is up to the authorities to consider it or not," Icop said.