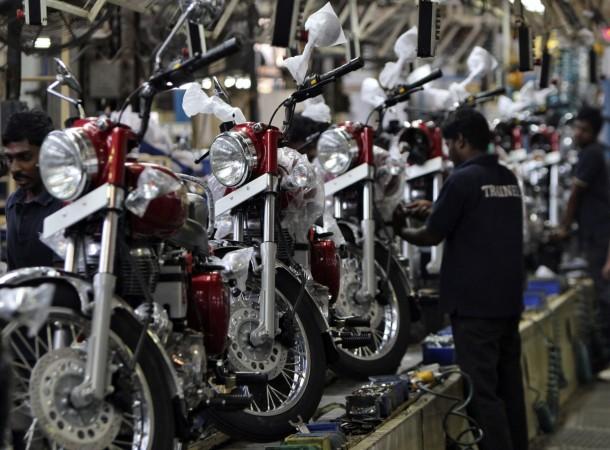 Eicher Motors, the parent company of Royal Enfield, overtook iconic American motorcycle-manufacturer Harley-Davidson in terms of market capitalisation on Monday. The difference between the market cap of Eicher Motors and Harley-Davidson was $13 billion two years ago. On Monday, Eicher's market cap was $57 million higher than the American manufacturer, reports ET Auto.
Chennai-based Royal Enfield also increased the global sales volume lead in 2015. Royal Enfield sold 4,52,812 units last year while Harley-Davidson's global sales dropped 1.3 percent in 2015 to 2,64,627 units. Royal Enfield first overtook Harley-Davidson in terms sales in 2014, selling over 3 lakh motorcycle as compared to the US company's 2,67,999 units worldwide. Eicher also has one of the highest operating margins globally, at 28 percent, while Harley's margin is 24.9 percent.
Eicher sold nearly 1.75 lakh Royal Enfield motorcycles in 2013, a 55 percent jump over 2012 sales of 1.13 lakh units. Royal Enfield's sales volumes grew over 50 percent in each of the past four years.
Interestingly, the products of these manufacturers do not cater to the same segment in India and abroad. The entry level Harley-Davidson motorcycle is priced over Rs 4.5 lakh while the most expensive Royal Enfield product, the Continental GT is priced a little over Rs 2 lakh.
Royal Enfield also announced setting up a third plant in Chennai in order to increase annual production to 9 lakh from the current 4.5 lakh in November 2015. The company is also looking to expand its global footprint, and has entered many new markets such as Colombia, Indonesia and Thailand recently. Royal Enfield also opened exclusive stores in Madrid and Paris last year and announced plans to enter Brazil in 2016. All these developments, along with the new Himalayan motorcycle launch in March 2016, are expected to further boost the company's sales.
[1 lakh = 100,000 | 1 crore = 10 million | 100 crore = 1 billion]