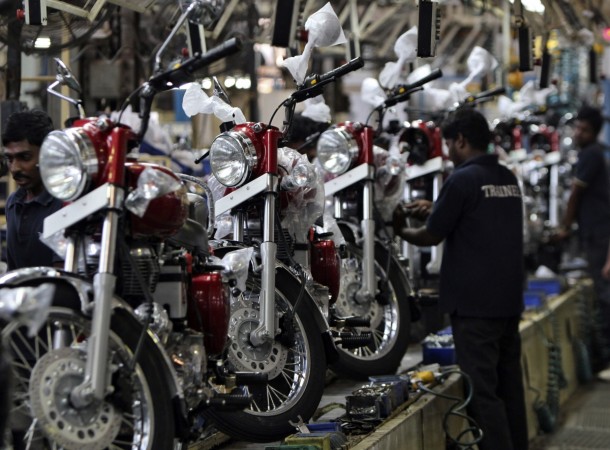 Eicher Motors Limited (EML), which makes commercial vehicles and two-wheelers, reported 76 percent rise in net profit for the fourth quarter ended 31 December, 2015 as a result of higher operational margins.
Net profit during the quarter under review was Rs 270.80 crore, up 76 percent from Rs 153 crore in the corresponding quarter last fiscal, the company said in a regulatory filing to the BSE on Friday.
Consolidated revenues of the Royal Enfield maker rose 44.6 percent to Rs 3,316.60 crore from Rs 2,293.80 crore in the year-ago period.
The company's EBIT margin was 12.6 percent during the quarter compared to 10.6 percent in the fourth quarter of 2014.
Volume sales
Sales volume in both two-wheeler and commercial vehicle segments saw a significant rise during the quarter.
The company sold 1,25,690 units of Royal Enfield, 52.87 percent more than 82,215 units sold in the fourth quarter of 2014, while commercial vehicle sales rose 33 percent to 12,687 units in Q4, 2015 as compared to 9,492 units in Q4, 2014.
The company's operations and sales were partly hit due to the Chennai floods last December.
"We lost production of 11,200 motorcycles due to our manufacturing facilities being disrupted by the flood," Siddhartha Lal, Managing Director & CEO, EML said in a statement.
Full-year sales of Royal Enfield grew by almost 50 percent, he said.
"Royal Enfield continues to have a strong demand for its products and has a very strong order book. We sold 452,759 motorcycles in 2015, registering a growth of 49.6% over 2014," said Lal.
On 2 February, 2016, Royal Enfield introduced Himalayan, a motorcycle purpose-built for adventure and touring in the Himalayas.
The company has also been increasing efforts to step up export of Royal Enfield, he said.
"In December 2015, Royal Enfield announced its entry in Thailand at the Thailand International Motor Expo in Bangkok. Royal Enfield also opened its first exclusive store in Jakarta in January 2016."
"Thailand and Indonesia are two of the biggest two- wheeler markets in the world. With a large commuter base, both these countries have enormous potential to upgrade to the next level of motorcycles," he added.
Eicher Motors manufactures commercial vehicles in collaboration with Volvo through its subsidiary VE Commercial Vehicles (VECV).
The company informed in a conference call that it plans to ramp up production of Royal Enfield, in view of the growing demand for the two-wheeler, said brokerage Angel Broking,
"EML has received a board approval for commencing its third manufacturing plant for Royal Enfield, given the strong demand. Royal Enfield is targeting to have a total capacity of 9 lakh units by CY2018, given the ramp up at the second plant and commencement of the third unit. EML has given production guidance of 620,000 units for CY2016 and 780,000 units for CY2017," Angel Broking said in a note on Saturday.
"The waiting period for bikes has reduced from 4-6 months earlier to 3-4 months currently," Angel Broking added.
The share price of EML closed at Rs 18,128.45 on Friday on the BSE, up 7 percent from its previous close. The face value of the share is Rs 10.
The company did not participate in the Auto Expo 2016.