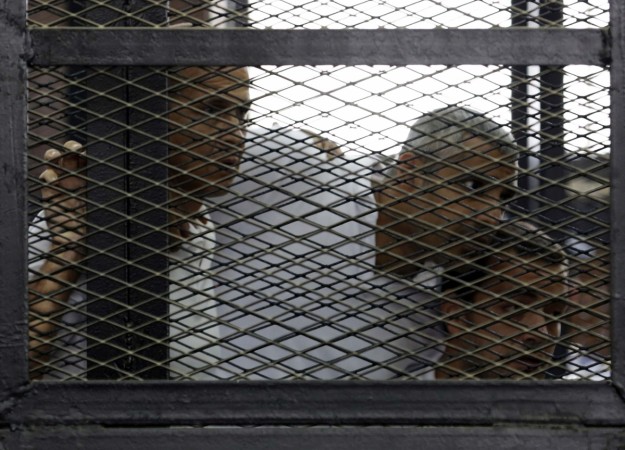 Three journalists of the Al-Jazeera television network have been sentenced to seven to 10 years in prison by an Egyptian Court, after they were found guilty of supporting blacklisted group Muslim Brotherhood.
The court in Cairo convicted Peter Greste, Mohammed Fahmy and Baher Mohamed, who were all working for al-Jazeera news channel in Egypt, for spreading false news and conspiring against the Egyptian government.
The trio and the Qatar-based television network had denied the charges, saying they were fabricated. The trial of the journalists and others in Egypt had sparked an international outcry, amid allegations that it was politicized.
According to Al-Jazeera, Greste and Fahmy were sentenced to seven years, while Baher was sentenced to an additional three years for the possession of ammunition. The news channel argues that he was only in possession of a used bullet he had found on the ground during a protest.
The three journalists have been detained in Cairo for more than six months, triggering a spate of calls from journalists and human rights activists for their release.
Australian Prime Minister Tony Abbott had earlier made a direct appeal to Egyptian President Abdul Fattah al-Sisi for the release of Greste, an Australian citizen and popular journalist.
Other Al Jazeera journalists who were tried in absentia were sentenced to 10 years.
'False News'
The three journalists were arrested in Cairo in December, while they were covering the aftermath of the Army's removal of Mohamed Morsi from the presidency in July.
The prosecution stated on Monday that the journalists and their Egyptian bureau colleagues aided the Muslim Brotherhood and produced false news reports about the situation.
The Muslim Brotherhood, which supported the ousted president Morsi, was listed as a "terrorist" organization. Anyone supporting the group has been punished severely by the Egyptian authorities.
The sentencing comes only two days after a court in Egypt confirmed death sentences for 183 Muslim Brotherhood supporters, including the leader of the group, which was accused of an attack on a police station in 2013.
Al Anstey, Managing director for Al-Jazeera English, said via Twitter that Monday's verdict was not just.
Today's verdict in Egypt defies logic, sense and any semblance of justice #FreeAJStaff

— Al Anstey (@AlAnsteyAJ) June 23, 2014
Not a shred of evidence has been presented against our excellent journalists #FreeAJStaff #journalismisnotacrime — Al Anstey (@AlAnsteyAJ) June 23, 2014
Journalists, who have been covering the trial, are of the view that there was no evidence to back up the verdict, and the sentencing was arbitrary and illogical at best.
Resounding response from British & Australian ambassadors was "shock" and "disappointment' in guilty verdict, as so little evidence #AJTrial

— Bel Trew - بل ترو (@Beltrew) June 23, 2014
Sat through the majority of court sessions I can tell you there was no evidence to back up guilty verdict -devastating for #Egypt #AJTrial — Bel Trew - بل ترو (@Beltrew) June 23, 2014
Evidence jailing AlJazera correspondents included Sky News Arabia doc on animal welfare,BBC report on Somalia, presser in Kenya &a pop song

— Bel Trew - بل ترو (@Beltrew) June 23, 2014
Anyone enjoying this guilty verdict in #Egypt doesn't realise impact it has on press&personal freedoms here &the independence of judiciary — Bel Trew - بل ترو (@Beltrew) June 23, 2014