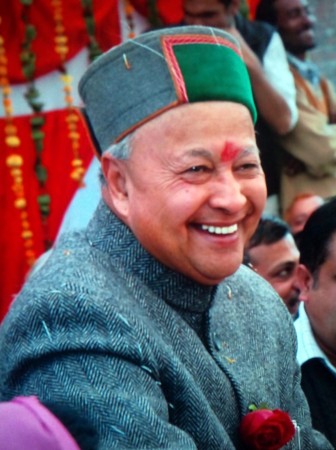 The Enforcement Directorate (ED) seized Himachal Pradesh Chief Minister Virbhadra Singh's Delhi farmhouse after he was charged with having assets disproportionate to his income.
According to the ED, the market value of the farmhouse is Rs 27 crore. It was bought under the name of his son's company, Maple, and the price of the farmhouse was quoted as Rs 1,20,000 in the documents.
The seized farmhouse is worth Rs 27.29 crore and was purchased by funding done through shell companies: ED on HP CM DA case

— ANI (@ANI_news) April 3, 2017
The CBI had filed a charge sheet against nine people, including Virbhadra Singh, last week. While the CBI is investigating Singh under the Money Laundering Act, he has claimed that the accusation is political vendetta.
Sasikala convicted in DA case: Proxy Palanisami claims majority
Back in September 23, 2015, CBI had registered an FIR against Virbhadra Singh and his wife Pratibha Singh under Sections 13(2) and 13(1)(e) of the Prevention of Corruption Act and Section 109 of IPC. On October 1 that year, Himachal Pradesh High Court, following Singh's plea to quash the FIR lodged against him by CBI, passed an order restraining the CBI from arresting, questioning or filing a charge sheet in the case without the court's permission.
However, about a month later, when the CBI filed a plea in the Supreme Court that the Himachal High Court was wrong in restraining them from interrogating or arresting Singh, the apex court transferred the case from the Himachal Pradesh High Court to the Delhi High Court as it thought that it was necessary to "protect the judiciary from embarrassment".
While Singh argued that the CBI had overstepped its jurisdiction as the DA case had not happened in Delhi, the CBI said that they could indeed investigate the case in Delhi as the DAs were allegedly acquired by him from the earnings that he received when he held the position of the Union steel minister from 2009 to 2012.
On Friday, March 31, Justice Vipin Sanghi of the Delhi High Court dismissed the stay along with Singh's plea to repeal the FIR registered against him and his wife by CBI.