The slowdown of Indian economy has been a major point of debate and mainstream political discussions since the Gross Domestic Product (GDP) figures for June-ended quarter surfaced on August 31. The latest sales figures once again expose the sad state of economy that could further escalate the political cross-firing.
The country's retail sector is facing major headwinds as sales shrunk as much as 36 percent, ahead of Diwali festivities, according to a NDTV report.
The report surveyed heads of trader's associations of 10 major cities across the country. The news channel quoted Viren Shah of Mumbai's Federation of Retail Traders Welfare Association, who said that sales have dropped 50 percent in the India's biggest financial hub.
By and large, sales figures are bleak in most big cities. Sales have dropped by 30 percent in Ahmedabad, 15 percent in Hyderabad, 30 percent in Chennai, percent in Bangalore, percent in Bhopal. The average drop of sales of the 10 cities stood at 36 percent.
Traders surveyed from 10 cities opined that Goods and Serices Tax (GST) and demonetisation have impacted their business activities. While, all the respondents blamed GST for the present dip in sales whereas about 30 percent among them felt that the gloomy scenario was a combined effect of both the new tax regime and Demonetisation.
Moreover, the Reserve Bank of India's (RBI) Consumer Confidence Survey for September 2017, released last week revealed that "The Current Situation Index (CSI) slipped further into the pessimistic zone, reflecting deterioration in sentiments on the employment scenario, the price level and income."
CSI is a sub-index of the RBI's consumer confidence survey that measures overall consumer sentiments toward the present economic situation. The central bank conducted the survey in six metropolitan cities—Bengaluru, Chennai, Hyderabad, Kolkata, Mumbai and New Delhi and had a sample size of 5,100.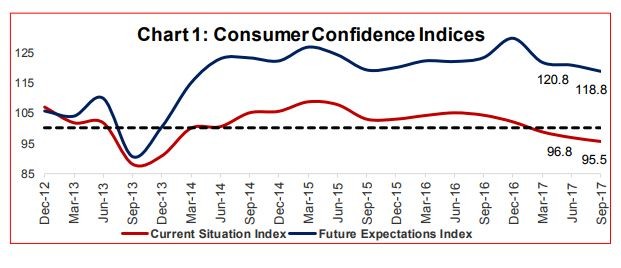 "The 28% GST slab is a big dampener in the retail market. It discourages people from buying. They are waiting for the govt to reduce taxes," NDTV quoted BC Bhartia, National President, CAIT as saying.
International financial institutions like World Bank and International Monetary Fund (IMF) have also lowered India growth forecast partially attributing to demonetisation and rolling out of the GST. On Tuesday, IMF cut down India's growth projections for 2018-19, to 6.7 per cent.