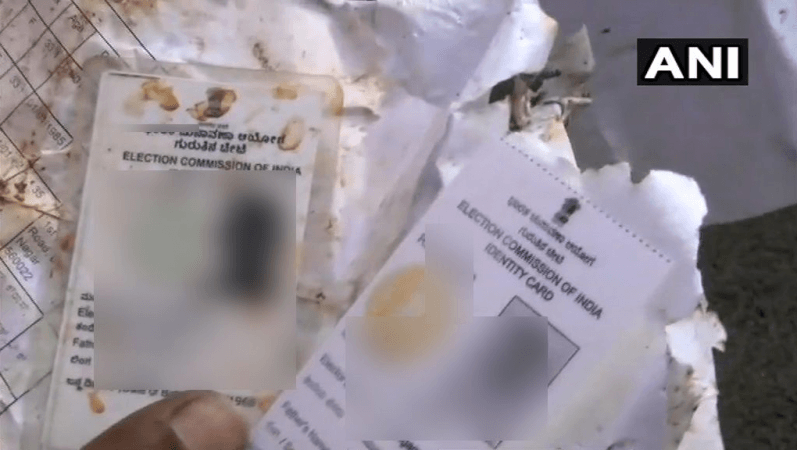 As the south Indian state of Karnataka gears up to go to polls Saturday, May 12, competition is clearly on its peak and things seem to be getting dirtier. The Election Commission Tuesday, May 8, confirmed that it had seized 9,746 voter ID cards from a flat in the Jalahalli area of Bengaluru.
The Jalahalli area falls under the Rajarajeshwari Nagar constituency, which is one of the biggest constituencies in the city. After the seizure of the ID cards, the BJP alleged that Congress was behind this and demanded that the election in the constituency be canceled. In turn, Congress blamed the BJP for planting these IDs in the trucks and staging the raid.
Karnataka's Chief Electoral Officer Sanjiv Kumar called for a press conference at midnight and confirmed the haul. Speaking of the seizure, he said that the EC had found two trunks of counterfoil strips, which seemed to be acknowledgment slips of the form through which names are added to the voters' list. He, however, revealed that these slips came in a different color than the original ones.
"In next 24 hours we will get to know more facts based on which a firm decision will be taken," NDTV quoted Kumar as saying.
Meanwhile, a flying squad official said that these IDs were being checked thoroughly and many of it are, in fact, valid voter cards but are "10 to 15 years old."
"We'll check whether there are fake ones too," Byre Gowda added.
"This is a BJP conspiracy & we have exposed it. High level enquiry should be ordered by EC against all those indulging in this conspiracy to get the election countermanded by planting fake evidence. Lodge an FIR against all these top bjp leaders": @rssurjewala#BJPDramaExposed

— Karnataka Congress (@INCKarnataka) May 8, 2018
"This is the BJP MLA candidate Muniraj Gowda with BJP leader Rakesh, in whose flat the voter IDs were recovered.

Election Commission has clearly said that Manjula Nanjamari had rented the flat to her son Rakesh. BJP's lies stand exposed": @rssurjewala #BJPDramaExposed pic.twitter.com/5N2WRNHJX9

— Karnataka Congress (@INCKarnataka) May 8, 2018
While specific details of the voter IDs are yet to be revealed, Jagadish Ramachandra, son of GH Ramachandra, said that he stumbled upon these trunks when he went to the apartment as part of his campaign.
Close to 20,000 fake Voters ID card recovered from @INCIndia's Raja Rajeshwari Nagar constituency candidate Muniratna.

Anti democratic means of Congress to win loosing elections is nothing new. They are in practice right from Indira Gandhi's period! pic.twitter.com/RkgEmPXdIu

— BJP Karnataka (@BJP4Karnataka) May 8, 2018
"Flat no. 115 at SLV Park View in Jalahalli looked like a mini-BBMP office. Apart from two aluminium boxes filled with ID cards, there were two printers and six laptops," TOI quoted Jagadish as saying. He also said that there could be scores of fake cards and a card under the name of BBMP joint commissioner Tippeswamy was also found.
The police probing the matter explained that all the documents are now being checked and only once that is completed, a decision on registering a complaint will be taken.