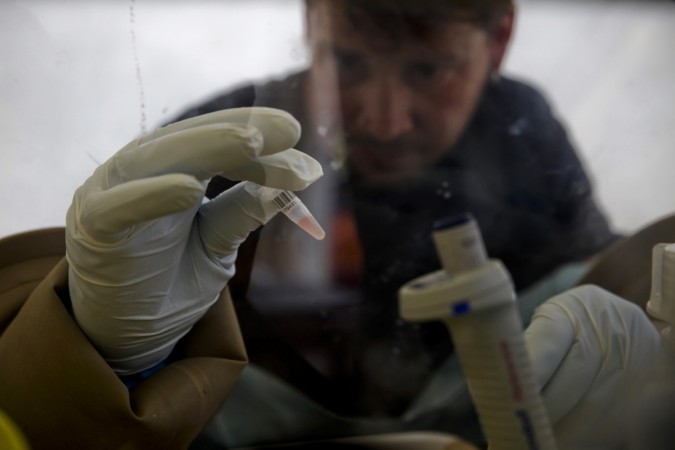 Health authorities in the United States have been thrown into a tizzy ever since the first case of Ebola was reported earlier this week in the country. Texas resident Thomas Duncan became the first American to be diagnosed with the deadly virus while in the country.
Ebola in US: Has America Run out of ZMapp Drug to Fight Ebola?
Now, there has been another scare in the US, this time in the capital, as a person returned from Nigeria with Ebola-like symptoms. The patient is being treated at the Howard University Hospital in Washington DC since Friday.
Nigeria is among the four West African nations worst-hit by the virus that has been raging on in the continent, having killed more than 3,400 people already.
The patient is said to be in a stable condition and is being tested for the virus.
"In an abundance of caution, we have activated the appropriate infection control protocols, including isolating the patient," hospital spokeswoman Kerry-Ann Hamilton said in a statement, as reported in The Washington Times.
Ten People at 'High Risk' of Ebola Identified in Texas
Authorities, who were scampering to get in touch with about 100 people who are likely to have been exposed to the Texas-based Ebola patient before he was hospitalised, have now identified ten people who are reportedly at 'high risk' of contracting the disease as they were in close contact with Duncan.
The United States Center for Disease Control and Prevention (CDC) identified 10 people who had come in contact with Duncan, according to Press Trust of India, four of whom were the patient's flatmates in Texas. Officials have moved out four members of a family staying in the Texas flat where Duncan stayed. They have now been accommodated in a private home, as reported by BBC.
The CDC has been monitoring 50 people daily for symptoms of the virus and will continue to monitor all of them for the entire 21-day incubation period of the virus to check if they develop symptoms such as fever, aches, vomiting or diarrhoea.
In the worst Ebola outbreak ever, more than 3,431 people have succumbed to the deadly virus in four countries in West Africa, according to the World Health Organisation.
Fourth American Contracts Virus in Africa
Duncan is the first American to be diagnosed with the disease in US, while four others, mainly health workers and doctors, were diagnosed while serving in African nations.
Three of them have already recovered after being treated in US hospitals, but Duncan's condition is said to be serious. The fourth, NBC cameraperson Askoha Mukpo, has contracted the virus in Liberia and is yet to return to the US.
Mukpo, 33, was diagnosed with the disease on Thursday and is currently at a treatment centre in Monrovia, Liberia's capital. He is expected to arrive at the Nebraska Medical Center in Omaha on Monday.