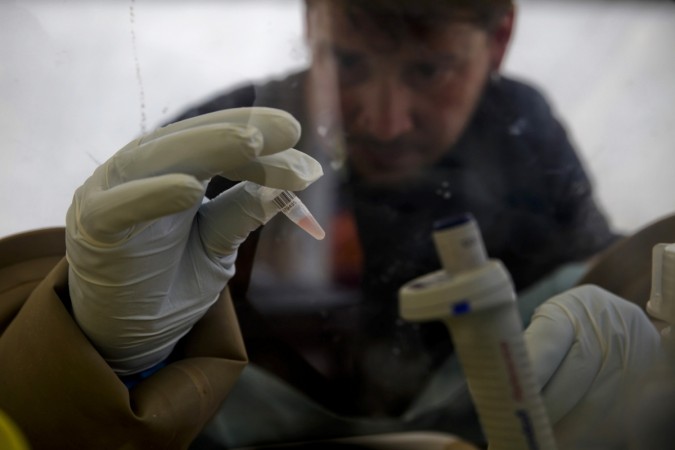 It has emerged that the experimental drug, ZMapp, believed to have cured two Ebola-stricken Americans, may be out of stock for now. This comes as the first American to be diagnosed with the disease in the United States is battling for life and as another who has contracted the virus is heading to Nebraska.
According to Dr Thomas Frieden, director of the US Centres for Disease Control and Prevention (CDC), the experimental medicine is "all gone", and that it "will not be available anytime soon."
He said that Texas patient Thomas Duncan, the first American to be diagnosed with the deadly disease in the country, is fighting for his life and has not received any of the experimental drug, ZMapp, which had been used in the treatment of two Americans, who had contracted the virus in Africa and returned.
"As far as we understand, experimental medicine is not being used," Frieden was quoted as saying by Reuters.
According to him, a second experimental drug produced by a Canadian pharmaceutical company "is difficult for patients to take. It's really up to the pateint's treating physicians, himself, his family what treatment to take."
Frieden is slated to meet President Barack Obama on Monday to brief him about the Ebola patient.
According to an earlier report in The New York Times, US federal officials were looking to spike the production of ZMapp sharply, and the Department of Health and Human Services was already said to be in talks with a Texas-based pharma company to produce the drugs on a large scale. Currently, ZMapp is being developed by San Diego-based company Mapp Biopharmaceutical, with funding from the United States and Canada.
"We're going with multiple manufacturers," a federal official told NYT.
While the effectiveness of the drug has not yet been confirmed, it has managed to save the lives of two American aid workers who had contracted the virus in Africa.
However, even as Duncan remains critical, no dose of the drug is said to have reached him. He was diagnosed with the disease last week, two weeks after he returned from Liberia where he is said to have been in contact with an affected patient who later died from the disease.
His case also highlighted the lax health checks on people returning from the Ebola-hit African nations, as doctors failed to identify the disease when Duncan initially visited the hospital.
Another American, Ashoka Mukpo, a cameraperson with NBC, contracted the virus in Liberia and is being moved to a hospital in Nebraska on Monday.