The lack of infrastructure and proper payment has prompted the nurses in the Ebola-hit Liberian capital of Monrovia to go on strike.
The nurses believe that the government should be grateful to them that they are risking their lives by treating the Ebola patients in the hospitals. They believe that the minimum that the government should do is to provide them with proper protective gear, so that they themselves do not run the risk of contracting the deadly disease.
The nurses would not return to work, unless they are provided with a Personal Protective Equipment (PPE) each, said John Tugbeh, the spokesman for the nurses at the John F Kennedy Hospital, in Monrovia, on Monday, to AFP, Firstpost quoted.
"From the beginning of the Ebola outbreak, we have not had any protective equipment to work with," he said. "As a result, so many doctors got infected by the virus. We have to stay home until we get the PPEs."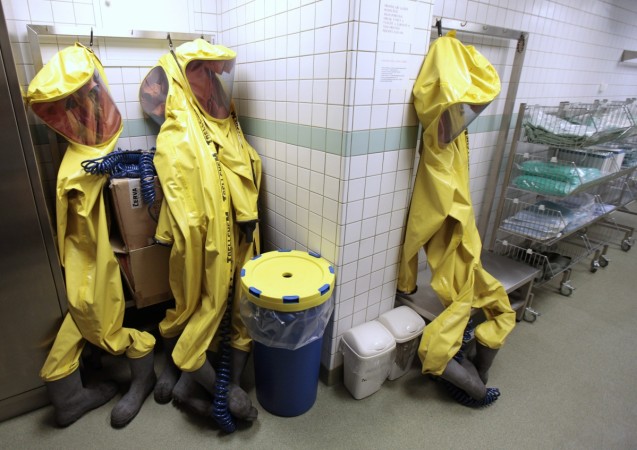 A PPE is a protective gear, including goggles, helmets, clothing, and many other such instruments, in order to safeguard the person wearing it from external dangers.
The PPE developed for the Ebola health workers protect them from coming into direct contact with any of the patients' body fluids.
The Ebola hemorrhagic fever has spread like wildfire through the four West African countries of Guinea, Liberia, Sierra Leone and Nigeria. More than 1,500 people have died after contracting the deadly disease in these four countries.
Many healthcare workers have also contracted the disease while treating the patients. Experts believe that around 10 percent of the people who have contracted the disease are health workers.
"We need proper equipment to work with (and) we need better pay because we are going to risk our lives," said Tugbeh.
The World Health Organization (WHO) believes that the number of cases of the Ebola virus might well have crossed the 20,000 mark, although the official records show that the current number stands at 3,069.
There has been some concerns raised by the international community, over the way the governments in West Africa have been treating their health workers, and how many of them have been falling ill.
"There has to be reciprocity for those that are taking a risk in getting involved in this epidemic and are working to control it. If you take risks, you should be paid," said Johan von Schreeb, who heads the research unit on Health care in Disasters at the Karolinska Institute, Stockholm, to Reuters.