An earthquake of magnitude 5.8 struck near Rajkot in Gujarat on Sunday evening, June 14. The National Center for Seismology said the epicentre of the earthquake was 118 km north-northwest (NNW) of Rajkot at 8:13 pm.
No injuries or damages reported
No injuries or damage to properties have been reported so far at a depth of 10 km in Gujarat's Kutch district approximately 120 km from Rajkot. The latitude and longitude of the epicentre have been verified as 23.3 N and 70.4 E respectively.
According to a statement from the Gujarat Chief Minister's Office, "The Chief Minister, as soon as he was informed about the tremors in the state, urged the district collectors to remain vigilant and get the details of any damage as well as the control rooms of the Disaster Management Cell in these districts to be made more intensive."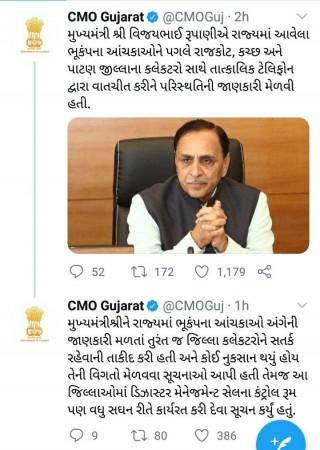 Chief Minister Vijay Rupani held an immediate telephone conversation with the Collectors of Rajkot, Kutch and Patan districts following the tremors in the state and got information about the situation there," Gujarat Chief Minister's Office (CMO) stated.
Gujarat has witnessed three major earthquakes in the past with the most devastating in 2001, another in Anjar in 1956 and the third in 1918 in the Rann of Kutch.