Arsenal kick the new Premier League season off with a home game against the 2015-16 champions Leicester City, and Arsene Wenger is already fretting over the fitness of several key players.
Wenger could not name Aaron Ramsey, Mesut Ozil or Alexis Sanchez in his squad for the Community Shield victory over Chelsea on Sunday, with Per Mertesacker then forced off early in the first half after suffering a "deep cut" following an elbow from Gary Cahill.
Considering Arsenal have suffered defeats in both of their opening fixtures of the past two seasons, this match against Leicester is seen as quite important in order to get off to the start they need if they are to put up a title challenge.
And to do that, Wenger needs all of his players fit, especially the really key ones. However, Arsenal look like being without both Ozil and Ramsey for the EPL opener against Leicester.
"I left them all out because some are short of preparation," Wenger said. "Mesut got a kick on his ankle and it's swollen so he couldn't play. He couldn't practise (on Saturday). We'll see but he has a little chance of playing on Friday night.
"Aaron Ramsey has a chance of playing but I think he could be short as well with a small calf problem."
Sanchez was not a part of the Community Shield squad owing to a lack of match fitness, having arrived pretty late from holiday following his exertions for Chile in the Confederations Cup.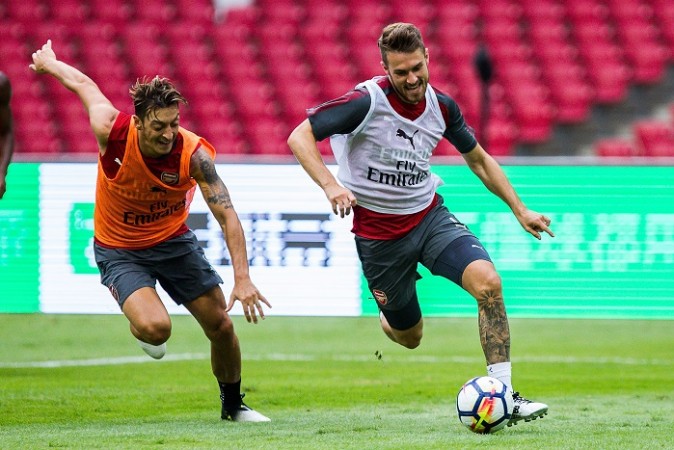 With the Sanchez future story, for now at least, on hold, it looks like Wenger can just concentrate on getting his star player ready for the English Premier League opener. While Sanchez is unlikely to be named in the starting XI for the game, he is expected to be in the matchday squad.
Also in that squad, and most likely in the starting XI, will be Mertesacker, with the manager expecting his captain to recover in time. "He had a cut on his forehead," Wenger said. "It's nothing bad. It was just bleeding and open, but it's not bad."
While Ramsey and Ozil are doubts, Arsenal will definitely be without Jack Wilshere, only just returning to training after another big injury, and Gabriel, who is expected to be out for a few more weeks.