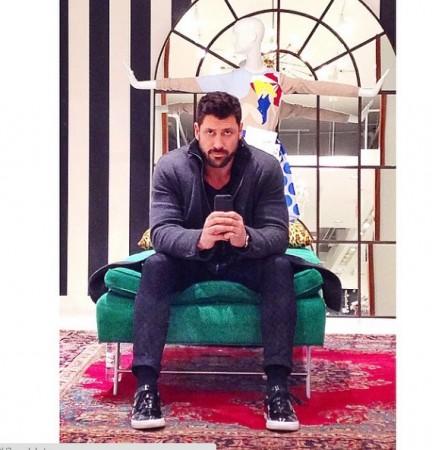 Former lovers Maksim Chmerkovskiy and Peta Murgatroyd have sparked dating rumours after they were photographed holding hands on the streets of New York City.
Chmerkovskiy has remained friendly with the "Dancing With the Stars" pro even after their split in early 2013, after dating for almost 10 months. And as per a Us Weekly source, the couple has been spending a lot of time together of late.
"They've been spending time together. I wouldn't say they're back together. But they're definitely spending time together," the source said. "Peta was wary at first since they fought so much and ended on such a bad note the last time," another source told the outlet, adding, "but he has been working hard to really be a good guy to her and show her that he's changed."
Interestingly, another source claimed that although the couple separated in 2013, they never really broke up, as Murgatroyd was someone Chmerkovskiy loved having around.
"They've never really 'broken up'. They're with each other a lot and have been for quite some time, including all last season. Tommy [Chong] would tease her about it," the source told People, adding that neither Chmerkovskiy nor Peta Murgatroyd are in a rush to label their relationship. "But Peta is his girl and he's never stopped wanting to be around her."
Post their early-2013 spilt, Chmerkovskiy dated model Kate Upton for about six months before they went their separate ways. Since then he has been linked with Jennifer Lopez, and also DWTS Season 18 participant, Meryl Davis.
Chmerkovskiy has not confirmed his relationship with the dancing professional, but last year he did talk about his desire to settle down and start a family.
"I raised so many children at the studio that I am ready to create one of my own," he told Social Life Magazine. "I am really ready to have a family now. I need an outlet. I have so much I want to give, and I need someone to give it to."