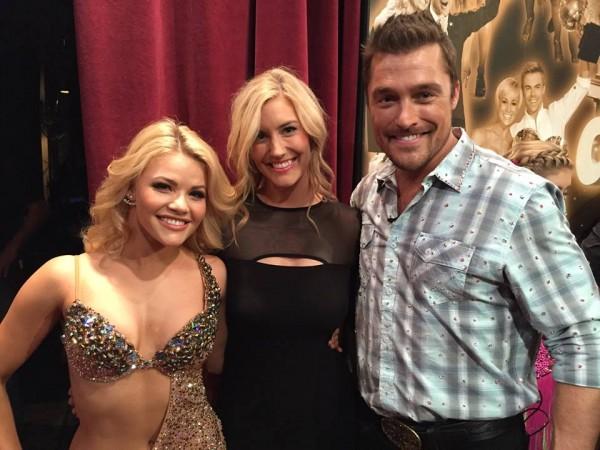 "Dancing with the Stars" professional dancer Witney Carson is engaged to be married.
She recently took to her Instagram page to share the wonderful news of her engagement to her boyfriend of four years, Carson McAllister. Posting an adorable photo of herself and McAllister on a beach, Carson wrote: "My love of four years @carson.mcallister proposed last night & I feel like the luckiest, happiest woman in the world. It was perfect, he's perfect #engaged."
The duo hasn't announced a wedding date yet. But it's highly unlikely they will plan a wedding in the middle of Season 21 of "Dancing with the Stars", as Carson and her dancing partner Carlos PenaVega are frontrunners for the Mirror Ball Trophy.
This announcement has put to rest rumours of the professional dancer's alleged relationship with "The Bachelor" star Chris Soules.
The duo was linked together during Soules' stint on "Dancing with the Stars". At the time, Soules was engaged to Whitney Bischoff, and rumours were rife that the relationship between Soules and his finacee was on the rocks due to his alleged closeness to his dancing partner.
Soules, reportedly, kept in touch with Carson even after the dancing reality show ended, and Bischoff wasn't happy about it. "Chris refused to quit speaking to Witney after the show ended," a source told OK! magazine. "And his relationship with Whitney imploded."
Although Bischoff and Soules released a statement saying they ended their relationship amicably, things are far from friendly, the source added.
The couple is said to have called it quits over lunch in Chicago on 25 May. "Whitney couldn't take Chris' bulls—t anymore," a source told Life & Style, according to OK! "She thought maybe they could work it out after DWTS, but really that's just when she started to see his true colors. She feels she was tricked, and she told friends she thinks he never really loved her at all."