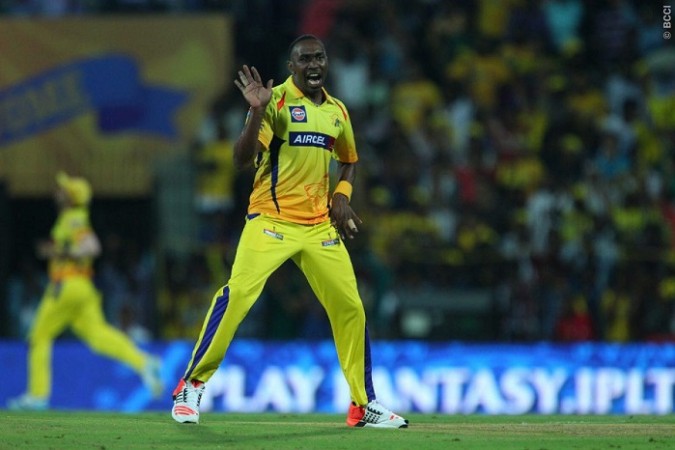 Dwayne Bravo launched his music single 'Chalo Chalo' in Chennai on Sunday. This is not his first attempt in music, as prior to this he has released six singles.
The world is aware of his theatrics on the cricket field when he celebrates a fall of wicket. On the field, his focus is only on the cricket ball and his game, but off the field, he has his eyes on entertainment and the music industry.
During this music launch, he was supported by his Chennai Super Kings (CSK) teammates and friends from Royal Challengers Bangalore (RCB), reported The Hindu. MS Dhoni's wife Sakshi Singh Dhoni and daughter Ziva also made an appearance in this event.
Bravo was thoroughly disappointed as he was not picked for the recently concluded ICC World Cup 2015 and in those two months he wanted to get his hands on music and that too in India. Bravo was dressed in a golden sherwani and sang and danced to his own composition.
His latest single 'Chalo Chalo' is from the mixed genre of Soca, which is from the Carribbeans, and also has a touch of Western and Indian influence in it. The song will feature Indian origin Trinidad singer Nisha. A music video will be launched soon and it will also include his teammates and friends from West Indies, CSK and other teams in IPL, reported The Times of India.
"On the field I am known as Dwayne Bravo, but outside I am DJ Bravo," said Bravo during the song launch event.
Bravo is also keen on acting in movies, and has already made an appearance in Tamil film "Ula". "I have not got any other chances. But I am always available," he noted.
When asked about Chennai, Bravo exclaimed, "I love walking on the streets and buying mangoes. Chennai reminds me of my hometown Trinidad and Tobago. Love for music is common to both these places."
Bravo also announced that 'Ringa Ringa' and 'Lungi Dance' are two of his favorite songs. He is also planning to open a DJ Bravo Dance School in Chennai.