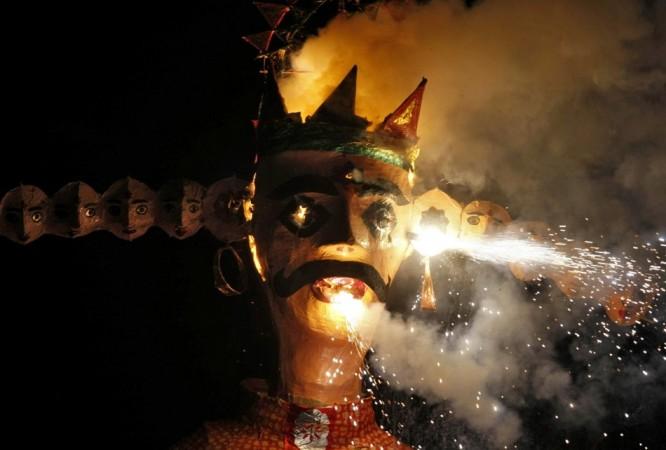 Effigies of evil king Ravan, his son Meghnad and brother Kumbhakaran were burned to ashes as part of the Dussehra celebrations on Sunday, marking the victory of good over bad.
People, dressed in their best, attended the Ramlilas at various open grounds in India on Sunday where artistes performed the final war between lord Ram and the ten-headed Ravan. As the fire crackers-stuffed effigies were burnt, crowds burst into cheers.
With police security arrangements, the Dussehra festivities were celebrated peacefully across the country. However, due to the cyclone Phailin, the celebrations were low-key affair in the country's east coast region.
President Pranab Mukherjee, Vice-President Hamid Ansari, Prime Minister Manmohan Singh and Congress Chief Sonia Gandhi visited the Subhash Park in New Delhi to attend the Dussehra celebrations.
Later, Prime Minister, Sonia, her daughter Priyanka Gandhi and son-in-law Robert Vadra visited Ramlila Maidan to celebrate the festival with Delhiites. Delhi Chief Minister Sheila Dekshit, Law Minister Kapil Sibal and other VIPs also visited Ramlila Maidan.
Dussehra, also called as Vijayadashami, marks the end of nine-day long festival navaratri and beginning of winter.
Dussehra is derived from Sanskrit word "Dasha-hara" which means the removal of ten bad qualities. Though the festival is observed to mainly to celebrate Lord Ram's victory over Ravana, it also marks the victory of Goddess Durga over the demon Mahishasur.
In some parts of the country the festival was celebrated on Sunday, while in other parts on Monday. However, the holiday has been declared on Monday.
Check out the video and photos here: